Rss
The Montessori approach to geography and culture study is a favorite of mine and of my kids.   Puzzle maps and continent boxes in the first plane are replaced by pin maps, research, and more in the second plane of development.  Long past when they have transitioned to the classical approach we use in the third plane, my kids come back to these materials and the concepts they have learned through this approach.
(If you aren't sure what I mean by planes, the first plane of development covers the ages of birth through six, the second six through twelve, and the third twelve through eighteen.  Each stage marks particular ways and things that the child is driven to learn.)
Through the puzzle maps of early childhood the students learn a ton about the physical geography of each continent.  During the second plane, they move deeper into the details of political and physical geography through the pin maps.
One of my first attempts to DIY pin maps involved a bunch of velcro dots and eventually I figured out how to make my own pin maps using push pins and thick poster board.  You can see a tutorial for that in my instagram story highlights under Montessori Homeschool.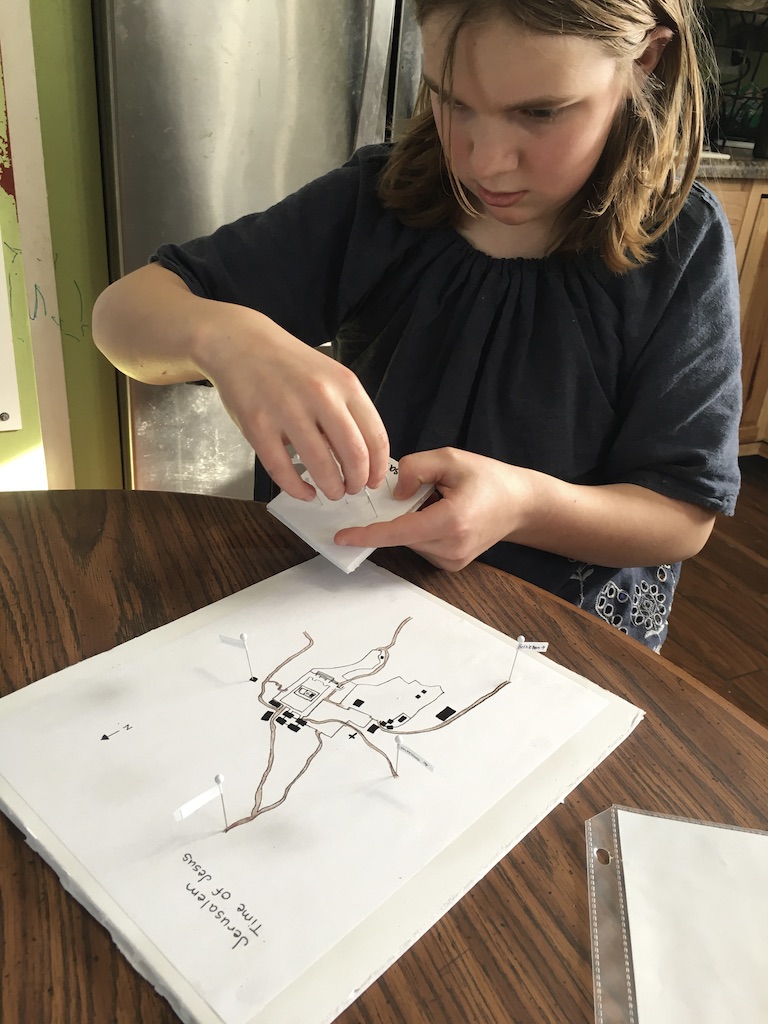 In addition to more detailed mapping, Montessori geography in the second plane involves a great deal of research and is the primary source for early non-fiction and paragraph compositions.  Early second plane compositions may involve simply copying paragraphs others have written and then evolve into filling out outlines and creating their own sentences.   **** (See below for a great deal on some premade outlines!) 
In the studying of people and places, a great deal of research is centered around the Fundamental Needs of People.  Students in the second plane, compare and think crticially about how people in different climates, cultures, and places meet their needs for food, clothing, shelter, and more.  
Montessori is a integrated curriculum model with each subject area interacting regularly with all of the other subject areas.  With tools such as extensive maps, research outlines, and common language for discussion in the fundamental needs of people, Montessori geography in the second plane provides a new level for students to approach studies in geography, history, science, art, music, and more.    By the end of the second plane, Montessori students are capable of beautifully detailed compositions and extensive research.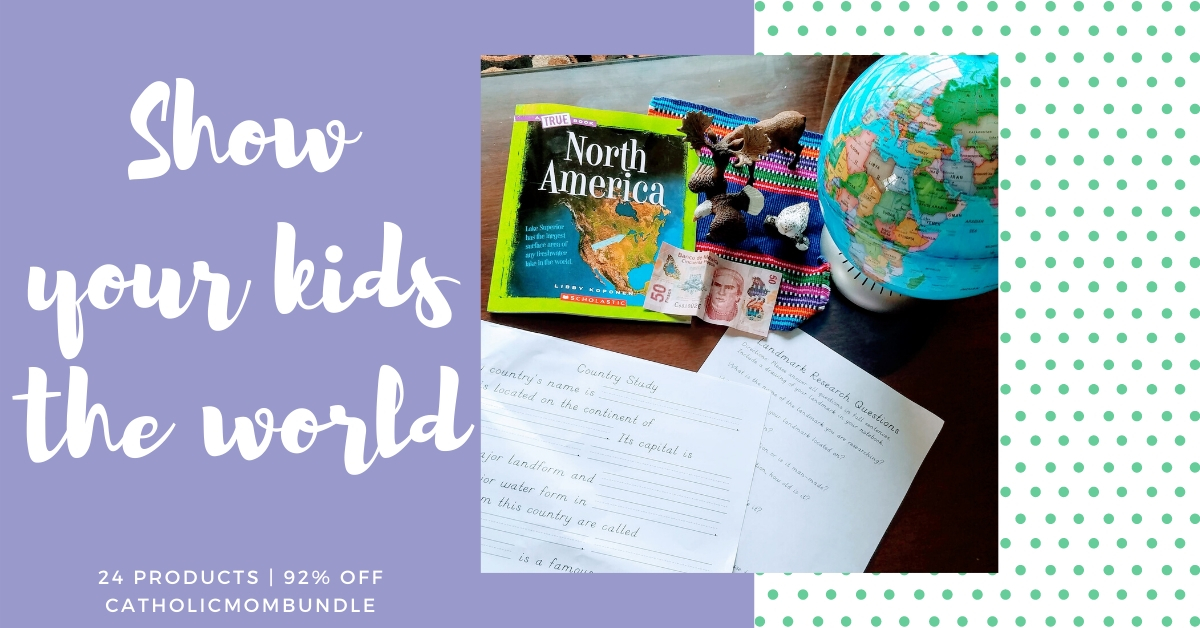 ****From February 10-14, 2020 my friend Colleen is offering her Geography bundle through the Catholic Mom Bundle. The geography bundle includes research outlines for country, continents, landmarks, and animal reports.  These research outlines are great for guiding students new to research and composition in selecting the important information they need to gather.    Keeping a stack handy saves me time and supports independant work!  The geography bundle also includes a file with more ideas and a set of cardwork for North American saints!
Of course as part of a bigger bundle, there are even more workbooks, printables, and courses in the complete Catholic Mom Bundle- including a new family study for Lent written by yours truly!  Ordinarily everything would cost $333. That's a good chunk of change, I know, but for 5 days we're selling all our products as a bundle for only $25.  Hurry- The sale ends February 14th at midnight, so now is the time to buy.****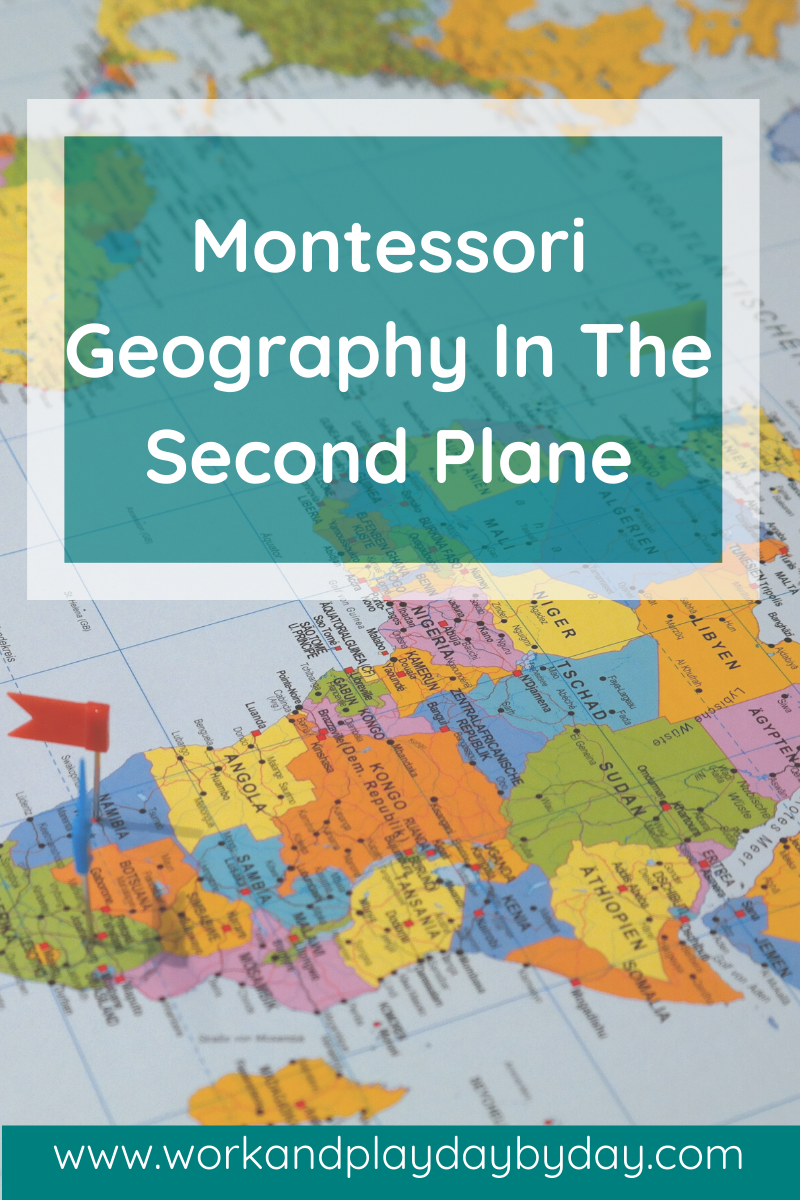 The post Montessori Geography In The Second Plane appeared first on Work and Play, Day by Day.
Rss
When our country began shutting down back in March due to COVID19, I admit the works of mercy were pretty far from my mind.  Sure, I wrote a book about the topic but everything else seemed more urgent!
Blessed to be safe financially and physically, we had to carve out a new life without normal activities and (painfully) without access to the sacraments.  We had to adjust to college classes taken and taught from home and special needs without our normal backups.  Our close knit Catholic community of families was forced online.
As I'm sure many of you can relate, our early uncertain weeks were spent in survival mode.  Honestly, I was in a complete funk all the way up to Easter.  Slowly and prayerfully, however, we were able to regain a new rhythm.  We started to think not about what we can't (couldn't) do, but what we can.   The works of mercy became a cornerstone of the can do and have been an opportunity for all of us to build community even during this COVID19 season of our life.
5 Ways to Bless Others and Build Community Through the Works of Mercy During COVID19
1.  Connect through Prayer
Early in the COVID19 lockdown our small Catholic community began meeting twice weekly to pray night prayer via zoom.  As our community began to open up and small gatherings are allowed, we now meet periodically at a local Catholic cemetary to pray together outside.
As a family, we also took on the task of praying the Rosary and Chaplet of Divine Mercy for our diocesan seminarians faced with an unusual learning situation.  Using these printables from Sweet Little Ones, we mailed them each a note letting them know we had been praying for them.   We have gotten several beautiful notes in return- these young men were so grateful to be thought of.  In addition to the prayer, the coloring was a great project to keep little hands busy during some ickier weather days.
2.  Be an Encourager
Right now we all need a little extra hope and encouragement!   Sidewalk chalking your neighborhood, church parking lot, the local nursing home, or just about anything else is an easy way to spread some cheer.
We may not be able to visit the sick and imprisoned directly right now but we can encourage them through digital platforms, old fashioned snail mail, and more.  
3.  Grow an Extra Row
Grow an extra row is actually a long time tradition.   The idea is to plant your family garden and then plant an extra row for the community.  Food shelves often accept produce and even if your local food shelf isn't, everyone knows someone who's budget is stretched thin right now.  Grocery stores in many places are still partially empty and food is a fundamental need we all share.   
Not to mention, gardening is a good for our own souls as well.  The joke around our house is that mom will be feeding our entire parish by the end of the summer.  I'm already delivery eggs and produce to the rectory once/week and hardly anyone comes to our home and goes away empty handed.
4.  Hyper Localize Your Efforts
This is a great time to learn about the events and opportunities closest to your home and community.  What does your closest neighbor need?  What is going on in your neighborhood?  How can you help your parish?
As churches begin to reopen and reestablish the sacramental life, there are many COVID19 related tasks that staff may need assistance with.   Also many jobs such as ushering might need new younger volunteers.   Caring for the sick definitely involves helping prevent others from becoming sick!
5.  Focus on Education
COVID19 offers a unique opportunity for all of us to pause and learn more about the needs of our specific community.  It is also an opportunty to learn more about the works of mercy themselves.  
If you need some ideas for how to start, you will find a corporal works of mercy picture book list available here.  If you sign up for my newsletter (more info in that post), I will also send you an expanded discussion guide.   If you are ready to dive even deeper as a family, consider checking out Let's Talk About Service, a six week family study for learning more about the works of mercy.   
The post Works of Mercy During COVID19 appeared first on Work and Play, Day by Day.
Rss
This is a five week free simple machine unit study perfect for kids in grades 3rd-5th which can be adapted to work for older or younger children. Each lesson connects an application of simple machines to a period of history. This combined study is designed to spark interest that will lead to further study of history and simple machines based on the interests of the student. Don't be afraid to do research and take the learning in a new direction.

The lever, inclined plane, screw, wedge, wheel and axle and pulley are commonly thought of as the six or seven types of simple machines, when in reality there are only really three different types of simple machines. The wheel and axle, lever and inclined plane. The pulley is an extension of a wheel and axle and the screw and wedge are an extension of an inclined plane.
Here are the three different types of simple machines.

Lever
Inclined Plane, Screw, Wedge
Wheel and Axle, Pulley
Week 1: Stonehenge - Wheel
Week 2: Hanging Gardens of Babylon - Pulley
Week 3: Hanging Gardens of Babylon - Archimedes Screw
Week 4: Snowman - Inclined Plane

Week 5: Assyrians - Wheel and Lever

Week 2: Hanging Gardens of Babylon - Pulleys
The Hanging Gardens of Babylon were one of the seven wonders of the ancient world. Built during the second Babylonian Empire, the legend says that the gardens were a gift from Nebuchadnezzar II to his wife.
There are several mysteries about this ancient wonder, but one has to do with water. One theory says that the gardens were watered using a system of pulleys. Create a pulley system like one that may have been used to water the Hanging Gardens of Babylon.
Week 3: Hanging Gardens of Babylon - Archimedes Screw
Last week a pulley system was created like one that may have been used to water the hanging gardens of Babylon. Another theory says that the gardens were watered using Archimedes Screws several hundred years before Archimedes, the Greek inventor of the Archimedes screw lived. An Archimedes screw is a simple machine used to lift material from a low point to a high point by increasing the distance thereby lessening the steepness.
The cereal gets caught in the tape joints of the disks.
The disks are not spread out far enough.
Many disks are too small so the cereal falls back to the bottom before it can be raised to the top.
Fix the issues so that each screw can successfully lift at least one piece of cereal.
Week 4: Snowman - Inclined Plane
How would you get the middle snowball in position on the tall snowman? This is an awesome winter kid challenge. How do you raise a large snowball three feet off the ground?
Week 5: Assyrians - Wheel and Lever
There are many different versions of siege towers, battering rams and chariots which were used in the numerous battles between the Assyrians, Hittites and Babylonians. Combine history and science as you explore these weapons of ancient warfare.
Rss
In this unit study kids will have the chance to learn about birds and animal tracks. It designed to spark an interest in animals and get kids outdoors observing. Because many kids seem to be naturally fascinated with animals there are not many lessons in this study. Please expand on these simple ideas to study any plants or animals your child is interested in. Visit the library to discover new books and feel free to create animal art and spend time in nature. Homeschooling does not need to be highly structured to be effective. Rather kids need to be given opportunities and encouragement to discover. The learning will be natural.

Week 1: Birds
A bird banding station is a place where scientists trap birds and place a small metal ring around one leg to track migration. The data is used to learn more about birds, and help to protect them and their habitats.
There is one near Denver, CO that can be found through the
Audubon Society
. Banding is done twice per year (May and September) when the birds are migrating. It happens in the morning from about 7:00-11:00 when the birds are most active. After the birds are trapped they are weighed, measured, banded and then set free. Banding sessions are open to the public for observation. Check with your local Audubon Society for learning opportunities.
Read
The Burgess Bird Book for Children.
It is free on-line. Then create a lapbook. Spend several weeks learning about birds. Each week focus on researching a different characteristic such as feathers, nests, types of birds, diet, and flight. Then summarize your observations in a little booklet that can be glued into a folder to make an interesting book.
Week 2: What type of seed do birds like best?
Create four different types of seeded peanut butter pine cones to find what type of seed the birds prefer.
After gathering pine cones, generously slather them with peanut butter.
Roll them in different seeds such as sunflower seeds, sesame seeds, flax seeds and millet seeds. Watch the pinecones and birds over the course of several days to discover their tastes.

Week 3: Animal Tracks
Winter is the best time to see animal tracks and
Snow Tracks
is the perfect book to go with the activity. The story contains several animals and their adventures. As they go about their day they leave tracks and many things can be learned from the tracks.
After reading the book, go outside in the winter or near a pond or stream and search for animal tracks.
Deer Tracks
Dog Tracks
Bird Tracks
Rabbit Tracks
Not Quite Sure Tracks - Maybe Marten Tracks
What were all these animals doing?

Another book great for nature hikes is In the Snow. In this book the kids see clues like berries in the snow and balls of fur and bone, and wonder who has been there.
Rss
This year we chose to use
Teaching Textbooks
new online subscription. Last year was our first year using Teaching Textbooks and we love it!! I found it took the stress out of math for my oldest and he actually started to enjoy doing math. This year I knew I wanted both of my children to use it.
The reason I decided to continue using
Teaching Textbooks
is because it is fun and my kids are learning at the same time. I hear laughter every lesson.
My goal as a homeschool mom is to create a love for all subjects and areas that they are working on. I want them to enjoy what they are doing even when they might be having a hard time with a problem.
Another reason I love
Teaching Textbooks
is that it is very independent. My children have a schedule everyday and when it is math time they know how to get to the website and log in to their own area and continue with the next lesson. It makes it easy on me and I think it makes them feel more responsible for their time and work.
As you may or may not know Teaching Textbooks 2.0 was book and discs that were shipped to your house before the 3.0 version was released. Everything from the lectures to problems is all online in the 3.0 platform.
So you may be asking yourself if there is still an option to have a book with the 3.0 version. In the parent area of the 3.0 platform they offer an E-book for each level you are subscribed to. The answer key is also available there.
This year I love how flexible it is. My boys can use any of the computers in our household and even their tablets because it is online based.
One thing my kids both have loved is the new buddies and new backgrounds. We use them as rewards. When the kids get a 100 on a lesson or a quiz, they can chose a new background or buddy. It gives them a little incentive to really master the lessons and quizzes.
As you can see in the picture below the program even offers hints here and there throughout the lessons. They get to chose if they want to use it or not, but it gives them a little information that may help them with solving the problem. You also have control on if you want them to have hints offered.
When they are working on problems, you can set it to allow them two chances or turn that option off. It is extremely functional and easily changed all from the parent area.
My favorite part is that with the 3.0 version I can keep track of grades on any computer. It is not stuck on just one computer as it was with the 2.0 version. I can pull up their grade as soon as they finish a lesson right from my smartphone because of the permanent grade storage they now offer. It makes it so easy to keep up with how they are doing without being right over their shoulder.
The new version 3.0 is extremely affordable now too!
They now offer a Family Plan if you have 4 to 8 students you can get the versions you need at a discounted price.
When you subscribe you are given a year long subscription to the level of your choice. You are also given 3 months of pause time. This is great if you are traveling and plan to not have school time, just pause it for the time you are away.
Teaching Textbooks
is so kind to offer a GIVEAWAY of a one year subscription of any level that the winner chooses.
Giveaway ends Oct 1 at 12 am.
Rss
This is the first year I am implementing required reading books for my boys.
For fifth grade these are the books my son will read.
Most of these he will read alone but a few are part of our History read alouds.
I decided to use this list as I wanted to give my kids books with good morals and values.
(this post may contain affiliate links)
Rss
by Katie Julius
Take a deep breath in. Hold it. Now, exhale.
As we sit in our homes this summer watching the news and social media for word of what school will look like this fall (with a seemingly different answer each week), it can be frustrating, daunting, and exhausting all at the same time. This is true even for those veteran homeschoolers who are so used to participating in co-ops and extracurricular activities that are open one day and closed the next.
We've been stressed and on edge since mid-March and if you're like me, you just want answers and to have something that's certain this fall.
So, before the panic continues, take a deep breath and let's dive into this homeschool thing, step-by-step.
YOU CAN DO THIS
Contrary to what society has taught us about who is capable of teaching (hint: you don't need a degree), as the parent of your child, you ARE capable. That is the only qualification you need. God gave you your children and with that comes the biblical mandate that you are responsible for the education and upbringing of your children (Prov. 22:6, Deut. 11:19). God is not going to give you a responsibility that you are not capable of handling! He will equip you. Parents have been educating their children for centuries; it's only within the last century and a half that government schools have taken over that role. I expanded more on this topic in a blog post in Spring 2019 that you can read here. You can also talk to almost anyone who has homeschooled their kids – you've got this!
KNOW THE LAW / YOUR OPTIONS
Before you begin homeschooling, it's important to have at least a basic understanding of the laws in California that allow private home education to happen. To start, all children ages 6-18 (as of September 1) are required to attend public school. This is called compulsory education. You may have noticed that 5-year-olds are not required to attend school. So that means, if you have a child who is not in that 6-18 age range, you do not have to enroll them in school. You can still do educational activities with them and read to them, but you do not have to enroll them in school. Now, if you DO have a child in the 6-18 age range and you don't want them in public school, there are exemptions to compulsory education.
Secondly, it's important to note that "homeschool" is not a legal term or option in the state of California. The way the laws are set up, all students are either enrolled in a public school or a private school. Under each of those categories, there are classroom based, hybrid, and non-classroom based options. Most private homeschooling families use either the PSA or PSP option.
Filing a Private School Affidavit (PSA)
Using this option, you are establishing your own single-family private school in your home with your children as its only students. As a private school, you determine the course of study (what they're learning), your school calendar (you can school on the weekends, at 7:00 at night, on Christmas Day!), and all other educational decisions – and you do not have to "answer" to anyone in the form of submitting work or meeting with a teacher.
You DO need to file the affidavit form with the California Department of Education annually between October 1-15. If you are starting a new school this year, that does not mean you need to wait until then to start school. The form does not establish your school. YOU establish your school when you start instruction. The form is only notifying the state that your school exists.
If the form seems overwhelming at first glance, don't worry! It's not as daunting as it looks. It takes about 10 or 15 minutes to complete. If you're worried about giving the wrong information, CHEA has several resources to help: a step-by-step guide on our website (it will be updated for the 2020-2021 school year when the filing period opens on October 1) and a virtual PSA Filing Party where we walk you through step-by-step and answer your questions along the way. At the end of the "party," you will have completed and submitted your PSA!
Enroll in a Private School Satellite Program (PSP)
If you aren't comfortable going it on your own, want a built-in community, or seek some anonymity, enrolling in a PSP may be a good choice for your family. A PSP can be part of a campus-based private school or it can be a stand-alone non-campus based private school. What each of these schools offers varies greatly as does the cost to enroll. Some have very nominal fees in exchange for keeping your records and offering parent-led activities while others can charge hundreds of dollars and in addition to keeping your records, offer classes, field trips, activities, and more. The level of oversight and requirements will vary with each school. It's important to find out exactly what is expected of you as the parent-teacher before enrolling your children. CHEA has a resource to help you in selecting the right homeschool group.
Credentialed Tutor
There is a third option for exemption from compulsory education, and that is to hire a credentialed teacher to teach your student. This is typically seen in the entertainment industry or elite athletics. There are very specific requirements about when school can occur, how many hours must be complete, the subjects taught, etc. CHEA typically recommends that parents who hold a teaching credential file a PSA for more freedom than this option offers.
A Word About Non-Classroom Based Public School Options
There are Independent Study Programs available through both traditional public school districts and public charter schools. Since they are public school options, they are required to follow state standards, provide non-sectarian instruction, and you do check in with a teacher periodically. The level of accountability and responsibility for the student/parent varies greatly. We invite you to read more in depth information about Public School at Home programs in this blog post. These may or may not be an option this fall due to education budget cuts.
For more information about the Options in Homeschooling in California, check out this publication.
WITHDRAW YOUR STUDENT
So, once you have determined which option you are going to use for the fall, it's time to withdraw your student from their public school. If you have enrolled your child at a public school, you will need to submit a letter from you, as the parent, notifying the school that you are withdrawing them. This is true even for kindergarteners who haven't attended a day of school yet. If you completed the paperwork to enroll them, you need to unenroll them or you will begin receiving calls from the school wondering where your child is.
CHEA recommends that you compose a letter and sign it before sending it certified mail to your school. This will provide a paper trail for you and give you proof that the school received the notice. A sample letter to withdraw your student is available here. No matter which alternate option you choose for the fall, you will need to send this letter to your school if your student will no longer "attend" your current school (whether public or private). As mentioned above, "homeschooling" is not a legal educational term in California. For this reason, CHEA strongly suggests that you do not use this term in your letter.
RECORDS REQUEST
If you are establishing your own private school and plan to file a PSA in October, you will need to request your student records AS THE SCHOOL. You should pick a name for your new school (for some tips and ideas on that, read this article), create a simple letterhead, and sign the letter as the administrator or principal of your school. CHEA also recommends that this letter be sent via certified mail for proof of receipt. A sample letter is available here.
If you are enrolling in a PSP or public school at home option, the school will handle the records request from your previous school.
KEEPING RECORDS
Once you have your child's old records, you will need to be sure to maintain new ones as required by law. I won't go into great detail here as we have a blog post that's part of our Homeschooling 101 series that covers it well. We also have an upcoming webinar. You do need to keep a copy of your PSA, a record of attendance, a course of study, and a list of faculty and their qualifications (your education is enough qualification.)
PLAN & PREPARE
Now that you have your legal "ducks in a row," you can relax a little and start planning the amazing year you are going to have learning with your kids! If you have young children (Preschool/Kindergarten), I can't recommend this article enough. I didn't follow these suggestions myself with my kindergartener several years ago and I wish I had! I think we would have had a more enjoyable year.
For older kids, choosing curriculum can be overwhelming. The options that are available to homeschooling families today are varied and plentiful. You will want to consider how your children learn, your approach to learning, your budget, your schedule, etc. What is best for one family is not necessarily best for another. We encourage you to read through some of our articles about curriculum and also view our "Choosing Your Curriculum" webinar for more information about how to select the curriculum you are going to use for your kids.
Likewise, what a typical day looks like in each homeschool is different for each family. If you have activities or classes during the week or parents who work, those will all factor into what your weekly schedule will look like. Some families school during traditional "school" hours and days while others will do their learning in the evenings or partly on the weekend. That's one of the benefits of being your own private school; you can set your schedule to whatever works best for your unique family situation. For some tips and ideas on how to plan your year, CHEA has a "Planning Your Year" webinar as well as some downloadable forms on our website to aid you in this process.
MOVING FORWARD
Homeschooling is not easy. It takes work. It can be difficult. There will be challenging days. There will be great days. This is all completely normal! Find veteran homeschoolers in your area to encourage you and walk alongside you. Use the many resources CHEA has developed just for you (we have more than 35 years of experience helping homeschoolers in California). Remember to take a deep breath when you feel overwhelmed. You CAN do this. Just keep calm and homeschool on!
OTHER RESOURCES
Here is a list of other resources from CHEA that new homeschoolers may find helpful as they plan, prepare, and start their school year:
New to Homeschool Digital Content Pass
Virtual Homeschooling High School Mini-Con
Special Needs Solutions for Homeschool Families
CHEA's YouTube Channel
Facebook Live Videos on CHEA's Facebook Page
CHEA's Facebook Communities: Homeschool California and Working Homeschool Moms
Rss
by John McGowan, Esq., CHEA Board of Directors
On June 15, the Supreme Court announced its decision in the R.G. & G.R. Harris Funeral Homes case, holding that the word "sex" in Title VII of the Civil Rights Act of 1964 includes protections for "gender identity" and "sexual orientation". Since the Harris Funeral Homes case ruling, we have heard from many in the Christian homeschool community who have questions about possible implications for their PSPs or similarly situated organizations. The purpose of this article is to address some of those questions and offer some guidance on maximizing religious freedom protections. It should be noted from the start, however, that this discussion is general in nature and not intended to be legal advice or specific to any particular organization or set of facts. In addition, while perhaps informative, the topics addressed here are not necessarily applicable to the single-family private school affidavit filer. This discussion is of special importance, however, to the PSP or organization that services numerous families, has volunteers and/or employees, and handles financial transactions.
First, some context. Tom Rost is the current owner of R.G. & G.R. Harris Funeral Homes, a family business in operation for more than 100 years. In 2013, Tom was informed that one of his employees, a male funeral director who had agreed to, and followed, the company's sex-specific dress code for years, intended to start dressing and presenting as a woman while working with grieving families. After considering the needs of all involved, including other employees and the grieving families the funeral home serves, Tom felt he had no choice but to part ways with the employee. This led to a lawsuit and the eventual landmark Supreme Court decision.
In its decision, the Supreme Court ruled that 56 years ago, when Congress passed the Civil Rights Act and used the term "sex" to offer women certain protections from workplace discrimination, the unintended, but now realized consequence, was that those protections necessarily extend to gay and transgender individuals as well. The majority opinion of the court went out of its way to indicate that it was not addressing any potential religious liberty or first amendment argument, but the court did recognize that there would be such future conflict ("[H]ow these doctrines protecting religious liberty interact with Title VII are questions for future cases….").
Justice Samuel Alito, offering a dissenting opinion, underscored the deep concern among religious organizations with the majority's view and worry about what the decision could mean for those future religious liberty cases. Justice Alito recognized that,
"'Religious organizations need employees who actually live the faith', and that compelling a religious organization to employ individuals whose conduct flouts the tenets of the organization's faith forces the group to communicate an objectionable message. This problem is perhaps most acute when it comes to the employment of teachers. A school's standards for its faculty communicate a particular way of life to its students, and a violation by the faculty of those precepts may undermine the school's moral teaching."
It was not by accident that Justice Alito highlighted liberty concerns of religious schools and teachers in his Harris Funeral Homes' dissent. At the time of Alito's dissent, there was pending before the court a separate case of particular importance to religious schools. On July 8, the Supreme Court rendered its decision in Our Lady of Guadalupe School v. Morrissey, dealing with discrimination claims brought by Catholic elementary teachers. Justice Alito wrote the majority opinion in the Our Lady of Guadalupe School case which held, on first amendment grounds, that "when a school with a religious mission entrusts a teacher with the responsibility of educating and forming students in the faith, judicial intervention into disputes between the school and the teacher threatens the school's independence in a way that the First Amendment does not allow." Justice Alito reasoned,
"The religious education and formation of students is the very reason for the existence of most private religious schools, and there-fore the selection and supervision of the teachers upon whom the schools rely to do this work lie at the core of their mission. Judicial review of the way in which religious schools discharge those responsibilities would undermine the independence of religious institutions in a way that the First Amendment does not tolerate."
The Our Lady of Guadalupe School decision was an important follow-up to the Harris Funeral Home case and made clear that in certain settings, such as with religious school teachers, the First Amendment prevents the government from tampering with a religious group's employment decisions about who furthers its faith based mission.
Even though the Our Lady of Guadalupe School decision was welcome news, there are many potential fact patterns that lie somewhere between Harris Funeral Home (traditional employee/employer situation) and Our Lady of Guadalupe School (religious school teachers). The law is hardly settled beyond the specific facts before the court in these cases. There are also several federal (and state) statutes relating to rights of a religious organization, including religious protections found in Title VII itself and the separate Religious Freedom Restoration Act, along with countless cases interpreting those provisions, none of which are addressed here.
With that said, as a general matter, here are several steps that a religious organization, and a Christian homeschool PSP in particular, should consider taking to bolster its religious freedom protections.
NON-PROFIT STATUS
Whether a PSP, or any other Christian organization, operates for profit or as a non-profit organization may be considered by courts in determining whether the organization is a "religious organization" worthy of certain protections. While this may not be a determining factor on its own, organizations should consider organizing or re-organizing as a non-profit. Even if non-profit status is decided against, organizations should consider a formal business structure other than operating as a sole proprietor.
STATEMENT OF FAITH
All Christian organizations should have a robust statement of faith. Generally, courts will not question an organization's self-proclaimed religious beliefs, particularly if they appear in a statement of faith or other governing document. The statement of faith should cover a broad range of religious beliefs. Consider requiring agreement to the statement of faith by all participants and employees.
MISSION STATEMENT
Whether incorporated into the statement of faith or a stand alone proclamation, Christian ministries/organizations should articulate the distinctly religious purpose for their existence through a mission statement. The mission statement should be grounded in the organization's religious beliefs and statement of faith.
EMPHASIZE RELIGIOUS CHARACTER
Your organization should highlight, rather than conceal its religious character. A Christian ministry/organization can highlight its religious nature by regularly including prayer, Bible studies, and worship in its activities; emphasizing any affiliation with a church or religious denomination; noting the organization's religious nature through any website, brochure, logo or tagline.
INSURANCE
Liability insurance, including officers/directors insurance should be considered. Don't assume it is cost-prohibitive until talking to a broker.
Ultimately, as we consider the changing legal and cultural landscape, take courage. We know and trust that Christ is the same yesterday, and today, and forever. The Gospel message is worth any cost. Consider the words of late Supreme Court Justice Antonin Scalia. "Have the courage to have your wisdom regarded as stupidity. Be fools for Christ. And have the courage to suffer the contempt of the sophisticated world."
Rss
CTCMath Review Homeschool Curriculum – Grade K-12 How will I ever teach math? That is the number one question about curriculum I get from moms who are thinking about homeschooling. Unless you love math, it can seem so overwhelming. Usually, parents aren't concerned about the early years, but the thought of teaching higher math sends […]
The post CTCMath Review appeared first on A MOTHER'S RANDOM THOUGHTS.
Rss
Does Teaching High School Science Scare You? As a veteran homeschool mom, who has graduated 3 children who took high school biology, I can assure you that teaching High School Science doesn't have to be scary. I used the best available curriculum at that time, but today when faced with biology choices I wanted something […]
The post Teaching High School Science: Biology appeared first on A MOTHER'S RANDOM THOUGHTS.