Rss
What is a "Middle Grades" book?
A Middle Grades book is classified as one that is written for children ages 8-12. (simple, right?)
Anyone who knows me knows I love to read! It's definitely my favorite pastime and I've logged over 100 books read annually for the past several years. I've passed on this love of reading to my son who just turned eleven. With that being said...we've spent countless hours reading together.
My son falls right in the middle of that 8-12 range - not only does he love middle grades books, but I do, too!
C.S. Lewis once said
"A children's story that can only be enjoyed by children is not a good children's story in the slightest."
With that quote in mind, we've tried to find books that we both he, as an eleven year old, and I, as a...well much older than eleven year old, can enjoy together.
The #bookstagram community on Instagram dedicates March to Middle Grades book reading. We thought this would be the perfect time to share some of our favorites with you. Many you may already be familiar with, but we hope we can add a few new titles to your TBR (To Be Read) stack as well.
(You can also follow me on Instagram, and also Mary's book account, Homegrown Book Picks!)
---
Favorite Middle Grades Classics
These first few will come as no surprise to any reader of Middle Grades books. They are tried and true and are considered "classics" for a reason.
Anne is a precocious young orphan who is taken in by Marilla Cuthbert and her brother Matthew on Prince Edward Island, Canada. She is, in my opinion, one of the most loveable heroines in all of literature. She's never quiet, fiercely emotional and always into mischief.
If you haven't read Anne yet, try the Audible original audio version read by Rachel McAdams. It's sure to be a delightful experience.
Be ready for the tissues with this one and know that the ending is pretty emotionally charged if your middle graders aren't quite ready for that yet. With that said, this is a great book for boys growing up and taking on more responsibility. Travis becomes the man of the house when his father leaves on a long cattle drive. He takes on the responsibility of his family, while also taking care of the ugly, rascal of a dog that shows up whom they affectionately call Yeller. My son loved this one and it fostered great conversation between us.
We followed this one up with a family movie night to watch the 1957 Disney classic movie. You can also follow it up with the movie Savage Sam that is a sequel to Old Yeller.
Little Women follows the March family of four daughters and their mother as they navigate the years of the Civil War with their father away. The sisters Jo, Meg, Amy and Beth's personalities are as varied and different as they could possibly be. The first reading of this novel is a cherished treasure that only gets better upon subsequent readings. The March girls become family and Marmee, their mother, is so full of wisdom and guidance. Follow this up with a number of movie versions and it will prove to be a wonderful family experience with your older middle-grade children.
The Anne of Green Gables Collection
Anne of Green Gables
Old Yeller (text only) Newbery Honor Book edition by F. Gipson
Little Women (Puffin in Bloom)
---
Favorite Middle Grades Series
When you read a great book only to find out it's part of a larger series, what a gift! Here are some series we've come to love.
I would be remiss if I didn't say that first and foremost that this is beyond a doubt our favorite series! These books follow young wizard Harry Potter and his friends on their journey to defeat the evil Lord Voldemort and save the wizarding world. My son and I spent countless hours...117 to be exact...listening to the complete series during the 2020 Coronavirus Quarantine.
We looked forward to an hour (or two or three) each day when we could get away from little sister and ride around with the windows down listening to Jim Dale transport us to Hogwarts. If you've only read the books yourself and never listened to Jim Dale narrate them you are missing out on a treat! The voices he gives to the beloved characters are just spot on.
These books can also be followed up with a movie marathon, just know that the movies get progressively darker and more sinister so judge for your own kiddos when they are ready for the movies.
After finishing up the Harry Potter series my son was looking for another series and I suggested this one. I'd read Percy Jackson years ago as I'm a sucker for anything Mythology based. This series follows Percy Jackson, the demigod son of Poseidon, as he learns about his powers and the mythical world he never knew existed. They are packed with action as Percy and his friends go on multiple quests to fight evil.
The audio versions of these books are good as well, although not as captivating as listening to Jim Dale. The first movie was a great accompaniment, however, it doesn't follow the book exactly.
Betsy-Tacy by Maud Hart Lovelace
These could be considered a classic as well. Written in the 1940s about Maud's life in Minnesota during the late 1800s. These books begin when young Betsy and Tacy are only five years old. You see them grow and change all the way through the last book that is Betsy's Wedding.
Much like the classics, these girls become personal friends and their shenanigans are lighthearted and lovely. This book transports you to a simpler time and makes you wish for days gone by singing around the piano with friends and snacking on fudge. I first read these as an adult, but wish I could go back and read them as a young girl!
If you haven't met the wolf children of Ashton Place you are missing out! This is a six-book series following three siblings who have been raised by wolves and found by Lord Ashton on his estate. Penelope Lumley is hired to be their governess and to try to teach them to act like humans.
The mysteries surrounding the children abound from the very beginning. Each book gets you a little closer to figuring out their true identity as well as Penelope's.
My son and I were both enthralled with these audiobooks read by Katherine Kellgren. She immediately sucks you in with her British accent and makes it a very pleasurable listening experience.
I couldn't write a post on favorite middle grades books without including the Little House series. These could be included in the classics section as well. This series begins in the 1870s and follows Laura Ingalls and her family as they move west and strive to make it on the American frontier as a pioneer family.
The audio versions of these books read by Cherry Jones are fantastic. Her voice is perfect for narrating the pioneer life and the fiddle playing in the audio versions brings Pa's playing to life. These are sure to enthrall even younger listeners as well. Our personal favorite to listen to is The Long Winter which has become a re-read for us during the cold winter months each year.
My son and I read the first book in this series for school this year, and I had to see what happened to the family in the next four books. Follow along as this Jewish family of five sisters grow up in New York City's Lower East Side at the turn of the century. Their unique personalities and the mischief they get into will keep you enthralled.
Harry Potter Hardcover Limited Edition Boxed Set: All 7 Books in Chest BRAND NEW
Harry Potter and the Sorcerer's Stone, Book 1
Percy Jackson and the Olympians 5 Book Paperback Boxed Set (new covers w/poster) (Percy Jackson & the Olympians)
The Betsy-Tacy Treasury: The First Four Betsy-Tacy Books
Incorrigible Children of Ashton Place 3-Book Collection: Book I, Book II, Book III
Little House Books Complete Set
All-of-a-Kind Family
---
Favorite Historical Fiction
My son and I use historical novels to supplement what he's learning in school.
These have been some of our favorites!
The year is 1860 and Simon Green has just finished the third grade for the fourth time and decides he's done with school. He uses what street smarts he has to try to earn a fortune by walking 1,000 turkeys from Missouri to Denver to sell at a great price. I had a blast reading aloud with my best rendition of Simon's dialect. My son got a kick out of it as well!
Caddie is a tomboy. She'd rather be outdoors with her brothers than indoors with the girls sewing and cooking. She is brave and bold and she's based on the author's grandmother. My son loved reading about the mishaps she gets herself into with the Indians. She's spirited and fun and will make you laugh and remember her as a fond friend.
Echo by Pam Munoz Ryan
What a listening treat! This book follows a harmonica as it makes its way through the lives of three very different children during very different circumstances. Each facing daunting challenges, the harmonica brings something into their lives that help them to bear the burdens they must.
The harmonica playing on the audio version makes it a must.
The Great Turkey Walk
Caddie Woodlawn by Carol Ryrie Brink (1997-11-01)
Echo - Audio by Pam Munoz Ryan (2015-04-28)
Honorable Mention
I couldn't end this post without mentioning the books by James Herriot. He's written so many wonderful books on his time as a vet in the Yorkshire Dales in the 1930's and on. My son is a major animal lover and the heart that James Herriot puts into his books would make even a non-animal lover fall in love with them.
While not expressly Middle Grades, these books have appealed to our entire family. From James Herriot's Treasury for Children to his Favorite Dog Stories, Cat Stories, and Animal Stories, you will be transported to a different place and time. With quirky farmers and their farm animals and pets, to his life with his veterinary partner and the goings-on of the town, you will be enthralled.
To go along with this experience you can watch PBS's new show All Creatures Great and Small. Our entire family loved it and can't wait for them to make season 2!
---
More Middle-Grade Reading Ideas:

If you're unsure about other Middle Grades books or any book recommendations for your children, don't hesitate to check out Sarah Mackenzie's The Read-Aloud Family. Sarah, host of the Read-Aloud Revival Podcast, breaks her book into ages and gives great recommendations for each age level. It's an invaluable resource.
Also, you can see look at the following posts from Mary here at Homegrown Learners:
Happy Reading!
Leave me a comment below with YOUR favorite Middle Grades book!
Rss
Nothing stays the same.
If the past year has taught us anything, it is that simple fact.
One of the reasons we gave up the ideal of public school so many years ago was the system's inability to adjust to individual students and make changes based on their needs. To be fair, when you are mass educating so many children it is impossible to change with each one. Hence, homeschooling, right?
After making the change to homeschool there are so many decisions we then face on a continual basis.
Sometimes we get in a rut in our homeschools and do not make the changes that are necessary for our children to succeed.
---
Signs a Change in Your Homeschool Might Be Necessary
Let's take this quiz. Have you:
become comfortable with what you are doing (It's just "easy") but something just doesn't feel right?

wanted to stay in the place where your children have friends - but something just doesn't feel right?

continued with a curriculum because of its reputation (everyone else is doing it!) - but something just doesn't feel right?

had life get in the way and been going on autopilot for a period of time - and you KNOW something isn't right?
I get it. I've answered yes to all of those things.
(all in the past year)
It takes courage to make big changes in your homeschool - and generally when you have a nagging feeling that something isn't right it's time to make a change.
But sometimes things get in the way:
Sometimes a homeschooling parent does not have the fortitude to stay in their own lane - the peer pressure is very real in some circumstances.

Sometimes we operate out of a place of fear and worry - fear of the outside world and its influences and worry about what will happen when we make the change.

Sometimes we find something and stick with it - regardless of if it works or not - because it is what we KNOW.
Let Me Encourage You
Stepping out into something new is scary. It takes courage and bravery.
Making a big change in your homeschool will be easier if you:
do your research

pray

consult parents ahead of you on the path

include your child in the decision-making process
And sometimes, the changes are hard and you won't see the benefit for a few years. We must have patience and faith.
For example, when my daughter made a big change in her schooling for the 11th-grade year she spent many months without a friend group and adjusting to new classes. Now - four years after - she will tell you that the changes she made in 11th grade helped her when she made the change to go to college, and then helped her when she had to make drastic changes when a pandemic upended her college education.
The Changes We are Making Next Year in Our Homeschool
I did an entire Instagram Live video about this today - you can watch that here:
View this post on Instagram
Long story short, we are stepping away from Classical Conversations after we complete Challenge 2 this year.
This is the exact same path my daughter followed, but with my son, this change snuck up on us much more quickly.
It's been a rough year for us (for so many people, right?). My dad passed away a month ago from natural causes related to this horrible virus. My husband left his job in the corporate world to join me here at Homegrown Learners and SQUILT Music. We've also had all of the normal stresses related to lockdown and the craziness that has ensued in our country since the lockdown.
The last thing that I wanted to change was my son's 11th-grade year. I thought I had it all set. It was a done deal.
(Some Background:)
My son has had the same sweet group of kids traveling this Challenge path since the 7th grade - and many of them have been together since their days in Foundations. I thought they would all graduate together. I assumed everyone would stay on the path.
In the back of my mind I was aware, however, that things start changing when our kids turn 16 and can drive. They begin to seek and need more independence. They are making more decisions for themselves about how they spend their time and what is important to them.
What Began to Happen:
Little by little over the past semester, many of the students in our Challenge group have chosen not to return. The common themes I am hearing are that they want to explore more of their interests, they desire accountability from a "teacher" and that they are tired of doing all six strands and being stuck doing schoolwork all day.
Another very common theme is the amount of reading that takes place at the Challenge level. I often joked with people that I beat the love of reading right out of my daughter in the 9th and 10th grades. Well - I see it happening with my son and I will not do it again - not in the name of "Classical" education.
This is in no way meant to disparage Classical Conversations - it has worked at times for my children and at other times it has not. This is the beauty of homeschool - we have the CHOICE to do what works for our individual child.
Additionally, let me be very clear: we have a wonderful group of children and they have had exceptional tutors. The kids are all very close and supportive of each other. While I am sad that this ideal "group" is breaking apart for schooling purposes, I trust God's hand in this situation.
Where We Go From Here in Our Homeschool
I'm not finished with all of our curriculum choices for next year - but when they are finalized I will be sure to share them with you!
Our goals as a family are to reclaim an enjoyment of reading, nurture my son's interest in graphic design and technology, and simply ENJOY his last two years of high school.
As I have witnessed in the past 12 years of homeschooling, God is faithful and change happens for a reason.
Every experience our children have works for good, even if it doesn't feel so good at the time. You also cannot make your decisions based on anyone else's expectations - I like to tell people I am a recovering people pleaser. I am learning that no matter what I do someone will always be unhappy about it.
Please stay tuned.
I am so appreciative of this homeschool community. Many of you have been with me through 11 years of blogging. We've gone through this entire journey together and I'm not ready for it to be over!
Are you making any changes in your homeschool next year?
Care to share? Leave me a comment below!
Rss
Almost all new homeschool parents begin their teaching journey with dreams that their children will LOVE and enjoy their homeschooling.  Many new homeschoolers opt for boxed curriculums with the idea that they won't have any gaps, but end up totally tied to their purchased curriculum and schedules.  These educational programs often leads to stressed parents pressing, pushing, rushing and forcing their kids to stay on track.  Many homeschooling parents find their days exhausting, their children frustrated and their motivation failing. 
I remember the stress that I felt when I started to "fall behind" in all 3 Sonlight curriculums in my first year.  Instead of using my Sonlight's schedule as a guide, I worked harder, read faster and ended up utterly drained.  After some good advice, prayer and rethinking, I simply moved the "deadline" further back 6 months, took a deep breath, and started over with a different attitude. We have used and re-used all our curriculums and every time I planned an eighteen-month to  2-year period instead of 1-year as the schedule planned.  And it was a joy to have a wide margin of time to follow the rabbit trails.  
My golden rule for homeschooling is ~
PLAN EXTRA TIME FOR WHEN THERE IS A SPARK OF INTEREST!  
Stretch out your curriculum and add a wide margin for any other activities! Follow the scenic routes, take picnic stops, rest under a tree and savour the fine stuff like poetry and some lovely classical music and don't make it feel like school. Provide plenty of free time for your children to be creative. Encourage them to dress up, act out and explore. Expose your children to a variety of art and craft supplies, play musical instruments & sing together.
Enjoy your children's spark of excitement and enthusiasm. Let your children lead you in these interests and view your role as the one who offers options and facilitates their interests.   Allow your children the opportunities to discover and unleash their creative streaks and personalities.
Tips for your planning —
Use your year plan as the outline and plan for topics in each subject. You don't need to find extras for everything or every subject.  I often only focussed on our History and Social Studies and Science.  
Now look for and add additional lapbooks, any relevant, fun hands-on activities, recipes, arts and crafts and YouTube videos to go with the topic of interest. 
Use a smaller file and file only the week's schedule, pages, outlines and plans. Place all the extras for the topics for that week in this small file.  This will help you not to feel overwhelmed. 
Add one extra week to your schedule after every suggested topic for any additional activity or finishing off or focusing on any subject that they didn't cover in the time allocated.
View the extras as just that — extras.  If you don't need or use them, that's fine.  You do not actually plan to do everything!  You plan to have options that you can offer at a moment's notice.  Nothing quenches a child's enthusiasm faster than a parent wasting time searching online or scrambling through papers. 
Remember your children's learning styles and passions and find activities that they would thoroughly enjoy. Some kids hate messy or noisy projects, others love to get stuck in. Some children feel stimulated, but others feel overwhelmed with extra activities. You may need to look for different varieties of activities for each topic to suit your children. My eldest loved to paint or draw quietly, my middle child loved to make things with her hands and my youngest loved anything active or outdoors. Having several different options really helped!
Young kids love to move, make things, get noisy, get messy, do things differently.  Adjust your expectations and let your kids have fun and make a mess — and train them to clean up afterwards. 
Plan for projects.  Projects often need more space, take several days and will need to be moved for other activities or school subjects.  Use trays or plastic sheets to slide things easily off the table. 
Pinterest is an incredible resource! Teachers and parents have already pinned and linked references to millions of ideas!
Here's a lovely story about a "silly" little rabbit trail — My youngest daughter, at 17 years, fondly recalled one of her favourite homeschool memories when she was 5 was learning to count in Japanese! We had found on a little counting video while following a rabbit trail while we were studying Japan. Sonlight allocated one week, but we spent more than a month of extra time learning all about Japan, dressing up in kimonos, eating Japanese food, doing origami and learning some Japanese words and the kids loved it. My daughters' love for origami was born at this time.  They still create beautiful tiny, folded paper creations for gifts and décor.
Don't be afraid of taking your time and following your children down rabbit holes. These experiences enrich, enlarge and wonderfully widen your children's learning experience and bring rich rewards for you all!
Blessings, Nadene
Rss
Here are some Easter hands-on activities inspiration ideas "resurrected" from deep in my 2014 archives!  I wanted to involve my daughter fully in our Easter Bible readings.  She LOVES reading her comic-style Illustrated Bible Story New Testament book.  It is very visual and makes the stories "come alive".  I wanted to add loads of hands-on activities.
Young children learn best when they use all their five senses – hearing, seeing, smell, taste and touch. 
I created an Easter Flags 16-page download, suitable for junior primary children, which includes Scriptures and parallel verses, activity ideas and story summaries for each Easter theme. As you read the Easter Scriptures, encourage your children to use all their senses as they learn about Easter and Jesus' crucifixion. Children may enjoy touching and feeling real objects hidden in a "feely" bag. Cut out each flag. Children can colour in the images. Fold the top edge of the flag over and staple or glue to a ribbon to hang as Easter bunting. These simple images may also be used for material applique on fabric flags. Be sensitive and adapt your lessons to suit your child's age and temperament.
Here is your free download ~ Easter Flags
For older children I also created some Easter Picture Collages.  
These are similar hands-on activities using all 5 senses, but this is more suited for older children as the images are more graphic, and some of the activities may not be suitable for young children.
I wanted my daughter to use all her senses and physically act out as many of the scriptures of Easter as we could. Instead of me preparing the lesson activities, I printed out the collage images, gathered all the objects we needed and asked my child to create the activities with me for each lesson. This is child-led education — which is a joy to behold!
These are the items we collected for each theme:
palm leaf – we were both surprised how huge the branch was!
perfume – perfume essence & spraying alcohol mixed in a bottle with cork and candles to seal the bottle
coins – in a little bag
wine & bread – for Last Supper and communion.  Matzos is unleavened, pierced bread.
bowl, water & towel – to wash feet
cock's feather and sound recording of cock crowing
thorns twisted into a crown – rather painful job!
whip – a cat-of-nine tails with leather strips
purple cloak – purple cloth and sticks to make lots
hammer & nails – hammer into thick plank of wood
vinegar & sponge – taste the bitter vinegar
stone & cave – sealed with some clay
Here is your free download ~ Easter Picture Collages
Here is a summary of some of the activities, thoughts and experiences of our Easter:
Some of our first activities were lovely. Waving a long (taller than her very tall brother) beautiful palm branch and singing praise songs was wonderful.
Making perfume and sealing the bottle with melted candle wax was soothing and it smelt delightful.  We acted out Mary's act of worship; anointing Jesus' feet and wiping them with her hair.  Very intimate. 
We tasted the bread and wine. The matzos bread is pierced and striped, just like Jesus' whipped and pierced body. The red wine reminded us of His blood. Reverence and deep gratitude filled our hearts.
We washed one another's feet. Just like Jesus did to His disciples. Humbling and so lovely.
Then things became tough.  Count out 30 pieces of silver, which was the price of a slave. Judas was mean.  While Mary broke the seal and poured out anointing oils worth a man's whole years wages, Judas snatched up 30 silver coins. Worship breaks open and pours out, selfishness takes for itself. 
We went to our chicken coop and found a lovely long rooster feather. The rooster strutted about with his hens. Did we hear him crow? Could we also betray our Lord? Would we cry bitter tears? Somber reflection.
And then the scenes with Jesus' scourging. Painful. See the thorns in the leather? A cat-of-nine has bone or stones tied to the leather strips to inflict greatest pain and injury. Our minds reel. Hear the whip as it snaps in the air … 39 times! Exhausting. How could Jesus survive?
Thorns pricked us as we made the crown and really hurt!
Hammering in nails into wood it a tough job. Bang! Bang! Imagine nailing through hands and feet? How awful! Our hearts ached.
We cast lots for the robe with our sticks.  If you win, you take the piece of cloth and feel its rich texture.  When I win, it is all mine. It is so easy to be callous and greedy, and all the while our Lord hangs suffering, dying. 
Now Jesus cries out and someone gives Him vinegar. Yech! It tastes bitter. No one can drink that stuff!
Finally we made a small tomb using a rock that had a cave-like shape. We found a flat stone to fit in front. Pressing some clay around the flat stone, we sealed the tomb. It is dark inside. Closed. It is finished.
May the Lord blessing you and your family in this Easter season,
In grace, Nadene
Rss
Today, I have the printable 2021 to 2022 two page monthly calendar second color choice ready. This is the Two Page Appointment Keeper. Two Page Monthly Calendar They are kept here at Step. 2. Choose Calendars/Appointment Keepers. Curriculum Pages for Planner Second, I want to remind you that I have FREE calendars that are made for […]
Rss
The beauty of unit studies is the ability to combine multiple subjects. This famous and historic trees fun study combines nature, history, and geography. Add in some art and music and it's a memorable unit study. Famous and Historic Trees So today, I rounded up some fun resources for creating a famous and historic trees […]
Rss
Endocrine System Worksheets and Notebook Pages
Do you know the difference between endocrine and exocrine glands? You'll learn that and more in this new 60-page Endocrine System Unit!
Since I've piqued your interest… exocrine glands are those glands that have ducts and lead to the surface of the body… like sweat glands, tear glands (lacrimal glands), and mammary glands whereas endocrine glands secrete hormones into the bloodstream
The Endocrine System Packet starts with an endocrine system booklet.  There is a version for younger kids that includes tracing, but there is a second version with fill-in-the-blank pages.  I used that with my middle school and high school kids to start off the unit and give them a broad overview.
Endocrine System Notebook Pages
The next section goes into detail about the endocrine system as a whole.  These endocrine system worksheets cover
What does endocrine mean? What does the endocrine system do? Where are glands located?
Hormones
Exocrine glands vs. Endocrine glands
Endocrine System Glands
Then there are sections on each of the major glands of the endocrine system:
hypothalamus
pituitary gland
pineal gland
adrenal gland
pancreas
ovaries
testes
There are student fill-in-the-blank pages and teacher (full text pages) with the answers are also provided.  There are also blank pages (see pictures down below) if you want your students to research and write in their own information.
Endocrine System Hormones
We talked about the function of some of the major hormones and what their function is in the body. Here are some examples
ADH (Antiduretic hormone, sometimes called vasopressin) : Controls the blood fluid and mineral levels in the body by affecting water retention by the kidneys.

MSH (Melanocyte): important for protecting the skin from UV rays, development of pigmentation and control of appetite.

GH (Growth hormone): Stimulates growth and repair.
After we talked about the pineal gland, we spent some time talking about circadian rhythm. I had a lively conversation about sleep & circadian rhythm with my teens! 🙂 
Endocrine System Disorders
Finally, we spent a bit of time talking about some common disorders of the endocrine system such as diabetes, hyperthyroidism, hypothyroidism, Addison's Disease and others.
Endocrine System Worksheets
There are some general endocrine system worksheets provided. Students can locate the various endocrine glands. There are pages that students can use to research and write about the endocrine system glands. And there are pages where students can draw or color the most common glands.
What age is the Endocrine System Unit for?
We didn't cover this particular human body system until middle school and high school. (My kids were 12 and 15.)  Although there is a booklet for younger students included in this packet, if you have younger kids, I recommend you start with some of the other body systems (Skeletal System, Digestive System, Circulatory System, etc. Those units have a lot of hands-on activities that my kids really enjoyed!)  You can check out our other Human Body System Packets here.
Is this included in the Human Body BUNDLE? 
Yes, this has recently been added to both Human Body BUNDLE options. If you purchased this unit, check your PayPal email address for the update email (with your download link) or email me if you need help and I'll get that link to you! Check out the Human Body BUNDLE here.
The Endocrine System Packet is 60 pages.  It is $5.75. 
Our packets are PDF digital downloads. After your purchase, remember to check your PayPal email address for the download link. This page answers some Frequently Asked Questions. Feel free to email me if you have any questions! ~Liesl
Endocrine System Packet
$5.75

Don't forget to check your PayPal email address for the download link.
FAQ: Do you need to purchase any other books or materials to go with the Human Body System packets? No, these materials will work with any books or curriculum resources you have on hand. The answers to various notebook pages and worksheets are provided.  We tended to get a lot (10-20!!) books from the library and we'd read through those as we covered a particular topic.  When my kids were younger, we did a number of activities from the Body Book (which can be found here affiliate link). I photocopied things onto cardstock. For example, the kids made a skeleton that was about 3 feet once it was put together! They really enjoyed doing that, though it is not necessary to purchase that!

$8.99 A Study of Cells Unit (150+pages) Animal and Plant Cells, Cell Theory, Organelles of the Cell, Photosynthesis and More


$4.50 Human Body Systems (Organization: Cells, Tissues, Organs, Systems) (50+ pages)


$5.75 Skeletal System Packet (90 pages)


$5.99 Digestive System (100+ pages)


$5.75 Circulatory System Unit (40 pages)

$5.75 Muscular System Unit (50+ pages)

$3.50 Nervous System Packet (20+ pages)

$25.00 Human Body BUNDLE OPTION 1: Human Body Systems, Skeletal System Packet, Digestive System, Circulatory System Unit, Muscular System Packet, Nervous System Packet, Endocrine System, Reproductive System Worksheets (Does not include the Study of Cells Unit.)

$29.99 Human Body BUNDLE OPTION 2: Human Body Systems, A Study of Cells Unit, Skeletal System Packet, Digestive System, Circulatory System Unit,  Muscular System Packet, Nervous System Packet, Endocrine System, Reproductive System Worksheets (We often talked about cells as we started our Human Body Units… then went on to talk about human body cells, tissues, organs & systems… and then would move on to a different body system each year. Generally as homeschoolers, we covered just one or two major body systems each year before moving on to another science topic.)
Not included in the HUMAN BODY BUNDLES, but if you have younger kids you might be interested in this unit:

$5.99 Five Senses Unit: This 100+ page Five Senses Unit has dozens of hands-on activities and detailed, colorful worksheets for learning all about the five senses – sight & the eye, hearing & the ear, taste & the tongue, smell & the nose, touch & the skin. (NOTE: This unit is NOT included in the Human Body BUNDLE options.) Recommended for PreK to Early Elementary. View Post, image 1, image 2, image 3, image 4, image 5
Don't forget to check your PayPal email address for the download link. Feel free to email me if you need help! ~Liesl

See you again soon here or over at our Homeschool Den Facebook Page! Don't forget to Subscribe to our Homeschool Den Newsletter. You might also want to check out some of our resources pages above (such as our Science, Language Arts, or History Units Resource Pages) which have links to dozens of posts.  You might want to join our free Homeschool Den Chat Facebook group.  Don't forget to check out Our Store as well.
Again, if you are interested in joining our Homeschool Den Newsletter, feel free to subscribe here.
The Welcome Series includes 5 packed emails… with tips on homeschooling, keeping motivated, finding various resources and freebies tucked away on the blog and more!
Plus, you'll be the first to hear about new packets (generally offered at a discount when they are first released), seasonal resources and more!
Happy Homeschooling! ~Liesl
The post Endocrine System Unit appeared first on Homeschool Den.
Rss
Cell Unit Update!
This Cells Unit covers cell theory, prokaryotic vs. eukaryotic cells, animal vs. plant cells, the organelles of the cell, and now goes into more detail about chloroplast anatomy, the layers of a leaf, photosynthesis, and more.
We just finished a big unit on plant cells and photosynthesis, studying everything from the organelles of plant cells to details about chloroplasts and the process of photosynthesis (light-dependent and light-independent reactions).
While we have studied cells before, I wound up basically creating a new packet because I had a number of new images I wanted to incorporate into this unit. I have just added nearly 50 pages of new material to the Cells Unit making it more than 150 pages!
Organelles of the Cell Worksheets
We started by talking about the organelles of the plant cell. These are similar to those found in animal cells, with a couple of exceptions.
Lysosomes are not commonly found in plant cells. Lysosomes are not needed in plant cells because they have cell walls that are tough enough to keep the large/foreign substances out of the cell.
Centrioles are absent from the cells of higher plants.
There are a number of different worksheets in this section – matching, fill-in-the-blank, cut-and-paste and blank worksheets.  My kids filled in the blank worksheet at the end of the unit and were proud of how much they had learned! 🙂
Photosynthesis Worksheets:
Including notebook pages on Chloroplasts, Light-Dependent Reaction, Light-Independent Reaction (Calvin Cycle), Transpiration, Stomata & Guard Cells
We then went on to talk about the process of photosynthesis.
We talked about the parts of the chloroplasts.
Light-Dependent Phase of Photosynthesis
Light-Independent Phase or Calvin Cycle
Transpiration
Stomata (Stoma) & Guard Cells
The answers are provided for these notebook pages.
This new PDF of Plant Cells and Photosynthesis has been ADDED to the Cell Unit. There are now more than 150 pages in the Cells Unit.
Scroll down for lots more pictures of what is included in this unit!
What age is this Cell Unit for? 
When we first studied cells, my kids were in upper elementary and middle school students. My kids were ages 9 and 11 when we first did this unit. My 7 year old joined in too because that's how it is when you homeschool! 😉  The most recent updates include material that is suitable for middle school and high school. (My kids were 12 and 15 when we did this unit on plant cells and photosynthesis.)
If you have the Cell Unit, Human Body BUNDLE 2 or the Biology BUNDLE of 5 be sure to check your PayPal email for the update email with your download link!  If you need help or need that link sent to you again, feel free to email me!
This unit includes more than 150 pages of materials! I will include more photos of what is included down below.
Our packets are PDF digital downloads. After your purchase, remember to check your PayPal email address for the download link. This page answers some Frequently Asked Questions. Feel free to email me if you have any questions! You will receive 2 PDFs in a zipped file. If you have trouble opening the zipped file, please email me! ~Liesl
Again, the Cell Packet is included in our Human Body Bundle. It is also included in the Biology Bundle of 5.
A Study of Cells Packet
This packet is now 150+ pages!
$8.99

The download link will be sent to your PayPal email address.
More Pictures of what is included in the Cell Unit:
Some years, we continued on from this unit to talk about human cells (then tissues, organs, systems).  You can see more about that unit here: Human Body Systems: Cells, Tissues, Organs, Systems
View the Human Body BUNDLE here: Human Body Bundle Page or in Our Store.

$29.99 Human Body BUNDLE OPTION 2: Human Body Systems, A Study of Cells Unit, Skeletal System Packet, Digestive System, Circulatory System Unit,  Muscular System Packet, Nervous System Packet, Endocrine System, Reproductive System Worksheets (We often talked about cells as we started our Human Body Units… then went on to talk about human body cells, tissues, organs & systems… and then would move on to a different body system each year. Generally as homeschoolers, we covered just one or two major body systems each year before moving on to another science topic.) Visit this page Human Body Bundle Page for lots more details and pictures of each of these units!
———————–
Biology Bundle of 5
The Cell Unit is also available in our Biology BUNDLE. The Biology Bundle of 5 includes these 5 packets:
1) Biology Unit (Biomes, habitats, food chains/webs, feeding relationships) – (70 pages)
2)  Scientific Classification & Taxonomy Packet (60 pages)
3) Ocean Unit & Layers of the Ocean/Ocean Zone Activities (100+ pages)
4) Cells Unit (150 pages)
5) Botany Unit (70+ pages)
These packets can be purchased together or separately. See the Biology BUNDLE Page for more details and lots more pictures!

Our units are PDF digital downloads.

$28.99 Biology BUNDLE of 5: 1) Biology Unit (Biomes, habitats, food chains/webs, feeding relationships) 2)  Scientific Classification & Taxonomy Packet 3) Ocean Unit & Layers of the Ocean/Ocean Zone Activities 4) Cells Unit 5) Botany Unit
Don't forget to check your PayPal email address for the download link from SendOwl (the delivery service I use)!
Scroll down below for more pictures!

  $6.50 Biology Unit: Biomes, habitats, ecosystem, biological interactions, feeding relationships (70 pages)

$8.99  Cells Unit – cell theory, prokaryotic vs. eukaryotic cells, animal vs. plant cells, organelles of the cell, the layers of a leaf, photosynthesis and more.

$6.99 Botany Packet — Plant Classification, Life Cycle of the Moss, Fern, Conifer, Angiosperms, Parts of a Flower, Parts of a Seed, Seed & Fruit Development, Monocots vs Dicots – plus Carnivorous Plants Mini-Unit

$8.99 Ocean Unit – Layers of the Ocean/Ocean Zone: Marine Habitats, Coral Reefs, Tide Pools, Water Form Words, Ocean navigation, Features of the ocean floor, salinity, ocean tides & currents, ocean life, bioluminescence & more!

$6.99 Scientific Classification and Taxonomy Packet (100 pages) dichotomous key activity, Linnaeus & the history of classification, learn the Animalia phyla (Annelids, Platyhelminthes, Nematodes, Cnidaria, Animalia, etc.)
Be sure to check your PayPal email address for the download link!
Don't forget to check your PayPal email address for the download link. Feel free to email me if you need help! ~Liesl

See you again soon here or over at our Homeschool Den Facebook Page! Don't forget to Subscribe to our Homeschool Den Newsletter. You might also want to check out some of our resources pages above (such as our Science, Language Arts, or History Units Resource Pages) which have links to dozens of posts.  You might want to join our free Homeschool Den Chat Facebook group.  Don't forget to check out Our Store as well.
Again, if you are interested in joining our Homeschool Den Newsletter, feel free to subscribe here.
The Welcome Series includes 5 packed emails… with tips on homeschooling, keeping motivated, finding various resources and freebies tucked away on the blog and more!
Plus, you'll be the first to hear about new packets (generally offered at a discount when they are first released), seasonal resources and more!
Happy Homeschooling! ~Liesl
The post Plant Cells and Photosynthesis Worksheets appeared first on Homeschool Den.
Rss
Create your own bunny alphabet game for springtime with just sidewalk chalk and this bunny themed printable! You can head outside to play this game and enjoy the springtime weather too with your preschooler.
Here's how to play…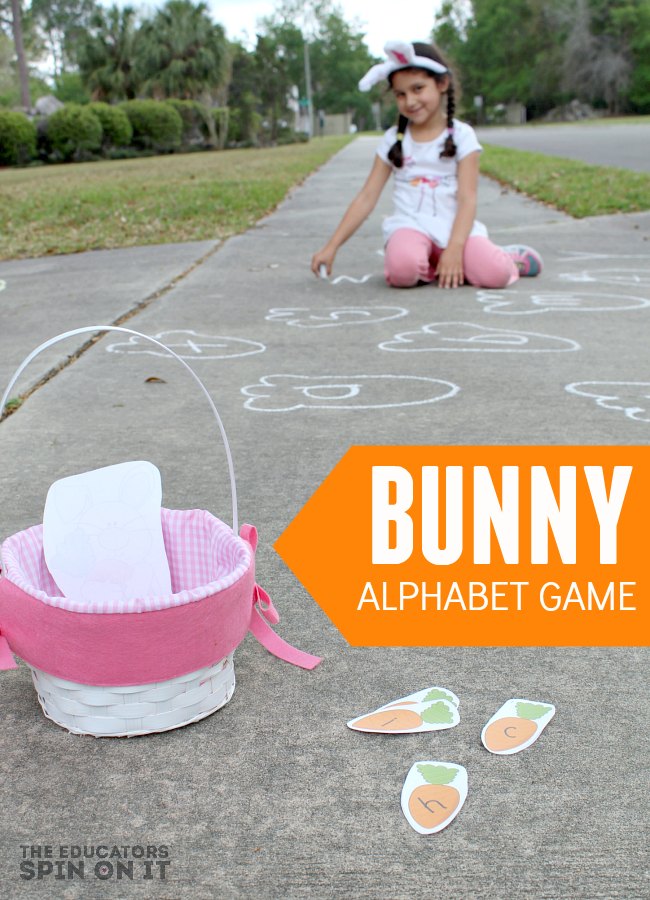 This post contains affiliates links.
Bunny Alphabet Game
Preschoolers have a lot of fun when it comes to Easter and Bunnies! It's fun to see their imagination spark as they anticipate the upcoming holiday. To capture this excitement you can create a teachable moment with this printable bunny alphabet game.
Encourage your child to learn to recognize the letters of the alphabet and letter sounds with this bunny themed game.
We choose one of our favorite authors Mo Willems to feature for this week's book. The book is called Knuffle Bunny by Mo Willems.
In the story the characters Trixie, Daddy, and Knuffle Bunny take a trip to the neighborhood laundromat. But the exciting adventure takes a dramatic turn when Trixie realizes her beloved bunny was left behind.
Mo Willems uses the backdrop of black and white photos with his adorable illustrations to share this humorous storyline of when Daddy's in charge and a lovey is left behind.
Knuffle Bunny: A Cautionary Tale by Mo Willems
CLICK HERE to Learn to Draw with Mo Willems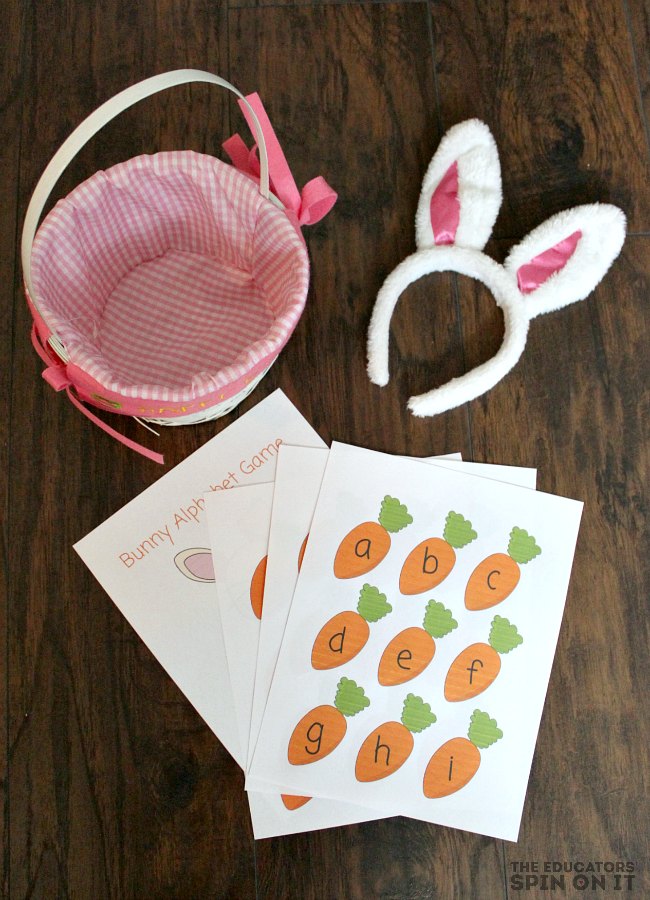 Carrot Clip Art from MyCuteGraphics.com
Materials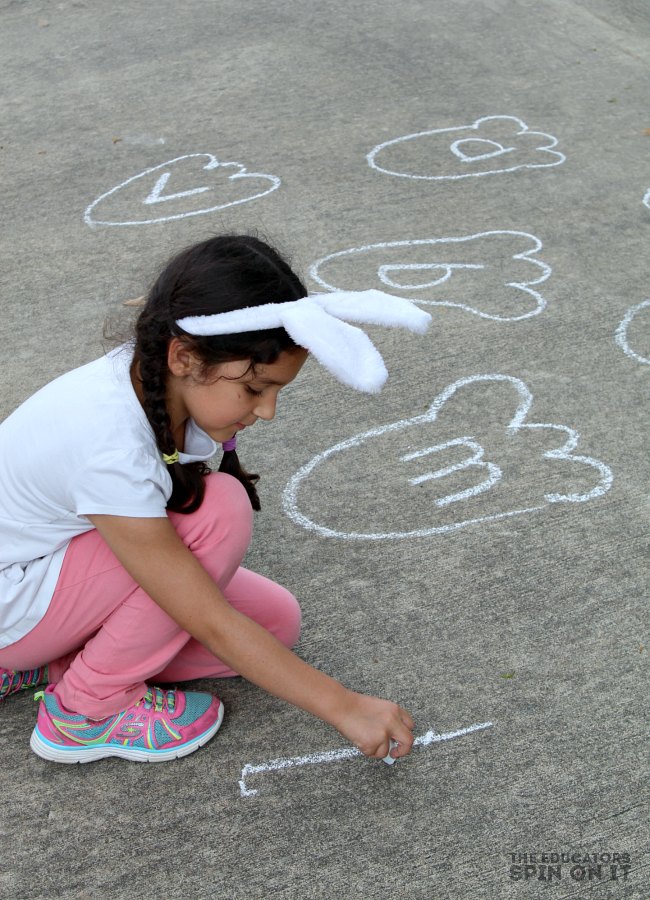 Directions for Alphabet Bunny Game
1. Read a bunny themed book with your preschooler. We're featuring Knuffle Bunny: A Cautionary Tale but there's a list of books available at the end of this activity with our favorite Bunny Themed Books for kids.
You can print the bunny book list here.
2. Create a bunny headband from construction paper or from felt.
See Tutorial HERE Or you can you a storebought one, we grabbed ours for $1 at our local dollar spot.
3. Print the Bunny Alphabet Game to get ready for the game! Cut out each of the carrot letters and place them into your basket.
4. Now it's time to head outside for some bunny alphabet game FUN! Grab your sidewalk chalk and let's go!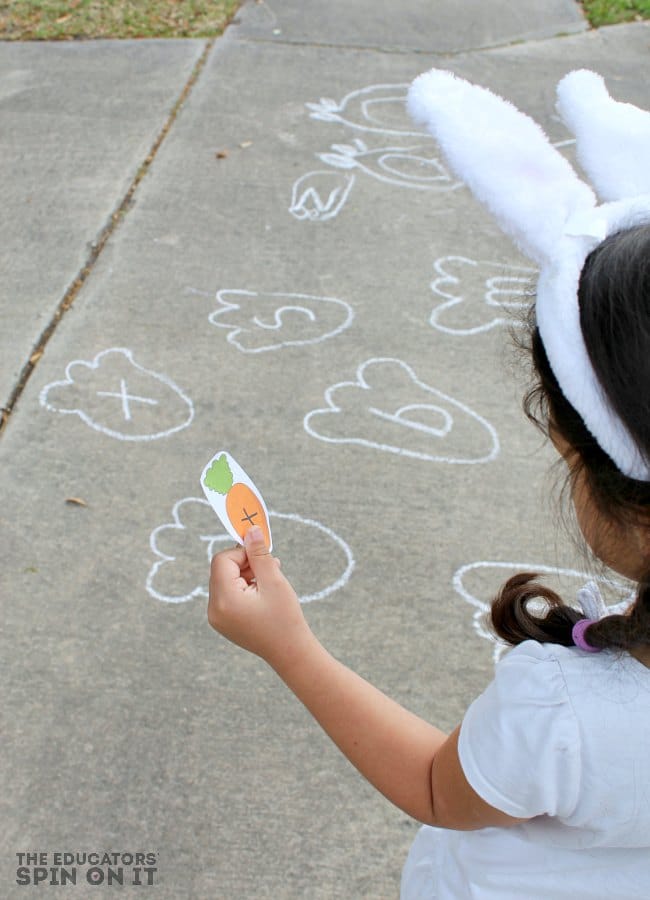 5. Using the Sidewalk Chalk , have your child create large letter of the alphabet with you on the driveway or sidewalk. You can add a little more Easter fun and make egg shapes too around the letters or bunny footprints.
For a younger child you will need to create these objects and then encourage them to color them in.
6. Put on your bunny headband, it's time to play the bunny alphabet game! Reach into the basket full of alphabet carrots and find the letter as quickly as you can the letter that's on your carrot.
HOP over to that letter and shout out its letter sound.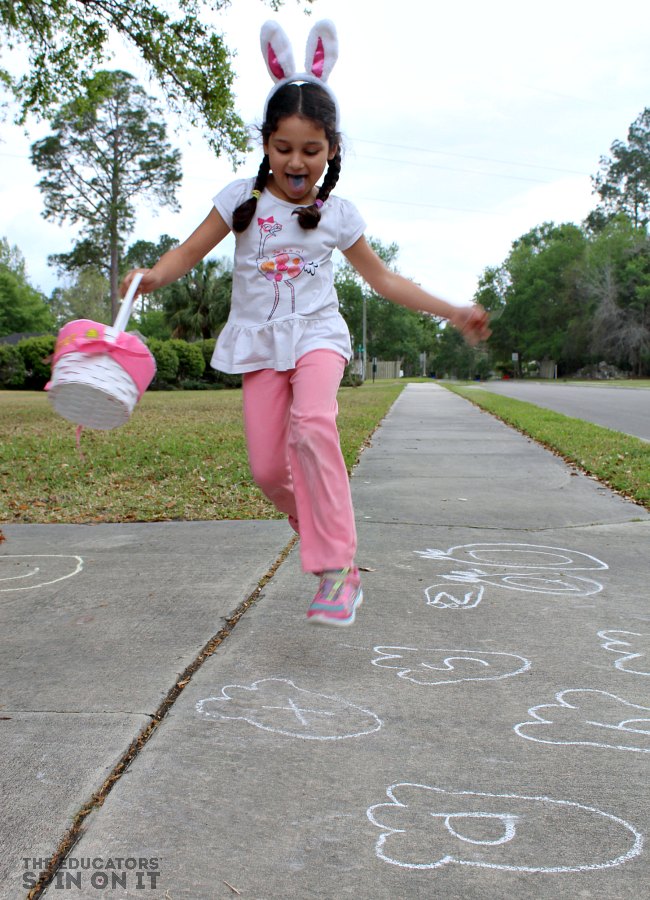 7. Keep playing the game until you've found all of the bunny's alphabet letter from the basket.
FOR YOUNGER CHILDREN start with a few letters of the alphabet and then add as they become more confident. You can make it more of a matching game and you be the one to help first with letter sounds.


ALPHABET GAME ALTERNATIVES
Create a matching game with the alphabet carrots
Make your name with the carrots.
INDOOR VERSION of Bunny Alphabet Game
Take your favorite Stuffed Bunny and hide a letter behind it and see if your child can figure out which one is missing. Start first with just a handful of letters and then as they master the game add more and more letters to increase the difficulty.
No matter how you play be sure to end with another sweet book about Bunnies. Here's some of my favorite bunny themed books for your preschooler. We keep these out all spring to enjoy. Many of them are aseries of books that we look for each time we visit the library.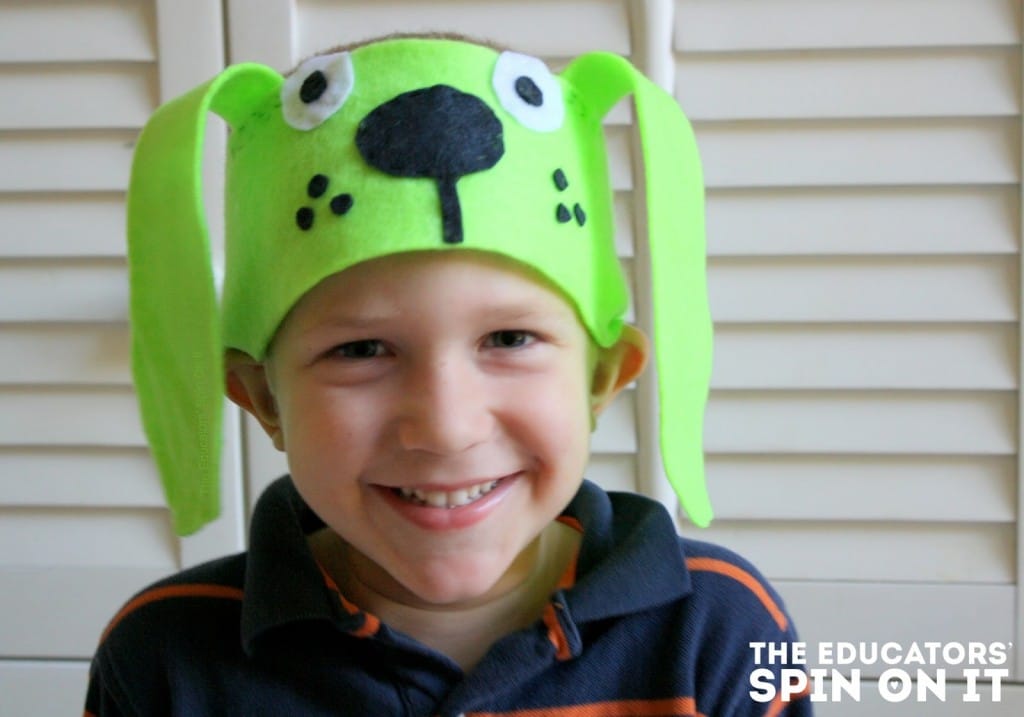 Bunny Books for Preschoolers

I'd love to know which bunny themed book is your favorite? Tell me in the comments. Be sure to print out this list to keep with your on your next visit to the book store or library or as you peek on Amazon for easter gift ideas for your child's Easter basket.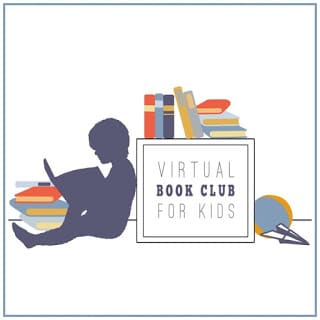 Join us for our free weekly Virtual Book Club for Kids!

Share your own bunny ideas in our Weekly Virtual Book Club for Kids Facebook group.
Bunny Themed Activities for Preschoolers
Get even more book themed ideas in your inbox to fun activities to do with your child to help prepare them for school. Sign up for our Book Newsletter! Next week we're featuring Eggs for our new Theme!

Want more sidewalk chalk games? Click here!
The post Sidewalk Chalk Bunny Alphabet Game appeared first on The Educators' Spin On It.
Rss
A baby's first Easter basket can be filled with hours of fun. Here's a few suggestions as you think of Easter baskets for babies and what to include for a special baby Easter toy.
This post contains amazon affiliate links.
Looking for creative ideas for an Easter Basket for your baby?
Here are some baby friendly ideas that are hands on, healthy and will inspire your baby's imagination. A few ideas are even handmade that you could put together easily with felt fabric scraps from home.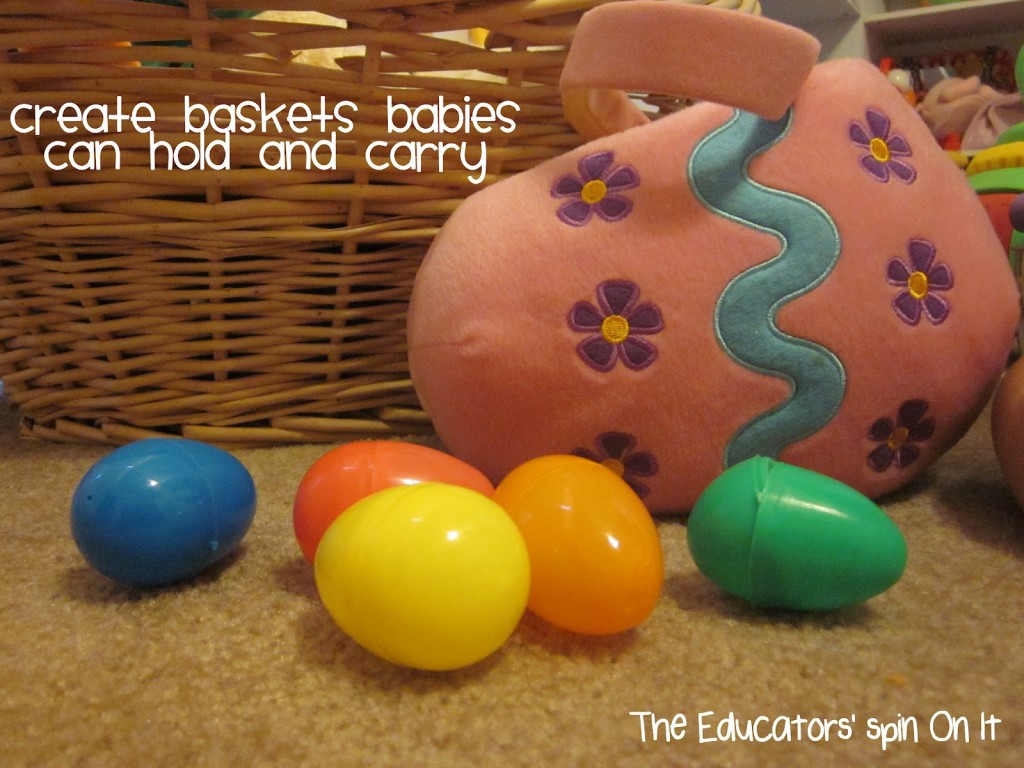 Baby Easter Basket Ideas
As you're picking out basket consider picking a basket that your baby or toddler can easily carry around when it has eggs inside of it.
Little hands love putting eggs in and out of baskets and it's great for their fine motor and gross motor skills.
This Cuddly Bunny Plush Easter Egg Basket or Personalized Plus Blue Bunny Easter Basket would be a fun surprise for your baby.
If you have a baby younger than 4 months for Easter, this Baby GUND My First Easter Basket Playset Stuffed Plush, 5 pieces would be perfect. I can only imagine how cute your baby's easter photos would be.
Plastic Easter buckets can be fun too and you can explore with sand and water too once you're done for outdoor sensory play.
What Can I Fill a Baby's Easter Eggs With?
An Egg Can Be Just an Egg
Truthfully don't feel like you have to fill them. They will enjoy just playing with the eggs. My older daughter first learned to throw with plastic eggs, they were light and easy to hold and she loved playing the egg game with them.
At the time she was 7 months old and loved just sitting and throwing them. Now my youngest daughter is 15 months and she loves trying to open them and discover things, every age is different.
If you are concerned with them coming open, just tape them closed.
You could always fill them with something too and seal them closed to make music. Consider items like rice, beans or beads. Just make sure that they are sealed closed to any choking hazards.
Electrical tape seems to do that job the best.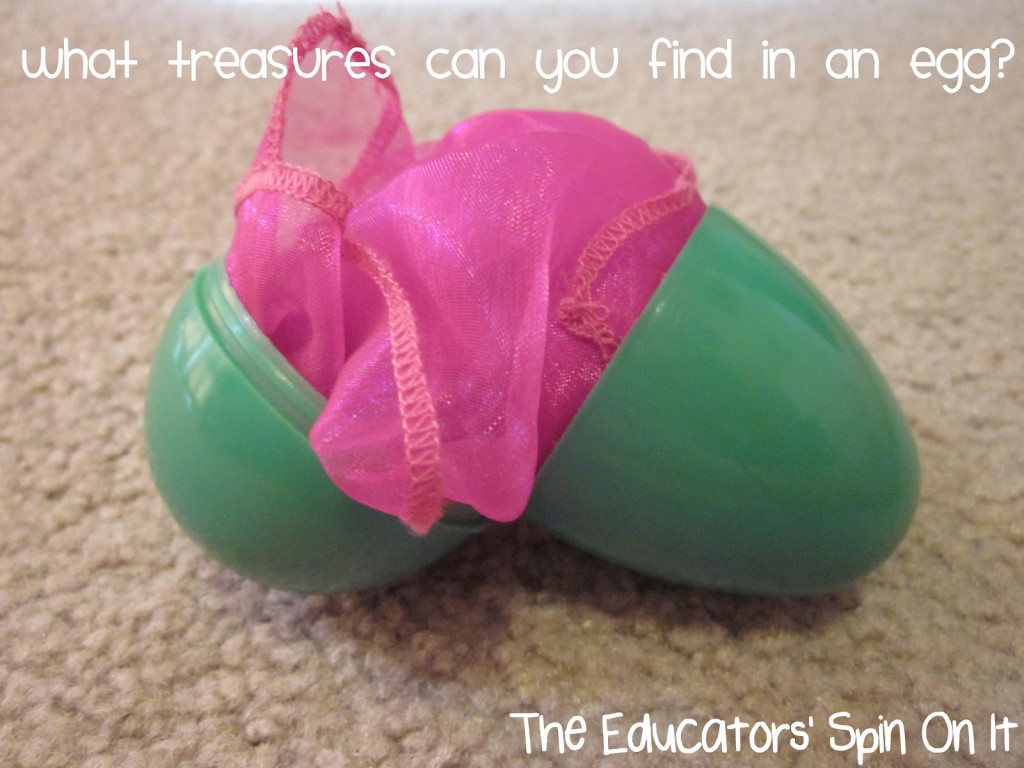 Easter Bubbles (tiny wedding ones, much easier for little mouths to learn with)
Chick Bean Bag
Eggs filled with finger foods like cereal, goldfish, puffs, raisins (instead of candy items)
What Can I Fill a Baby's Easter Basket With?
Spring Animal Puppets like a rabbit puppet or lamb puppet or Felt Eggs for encouraging Imaginary Play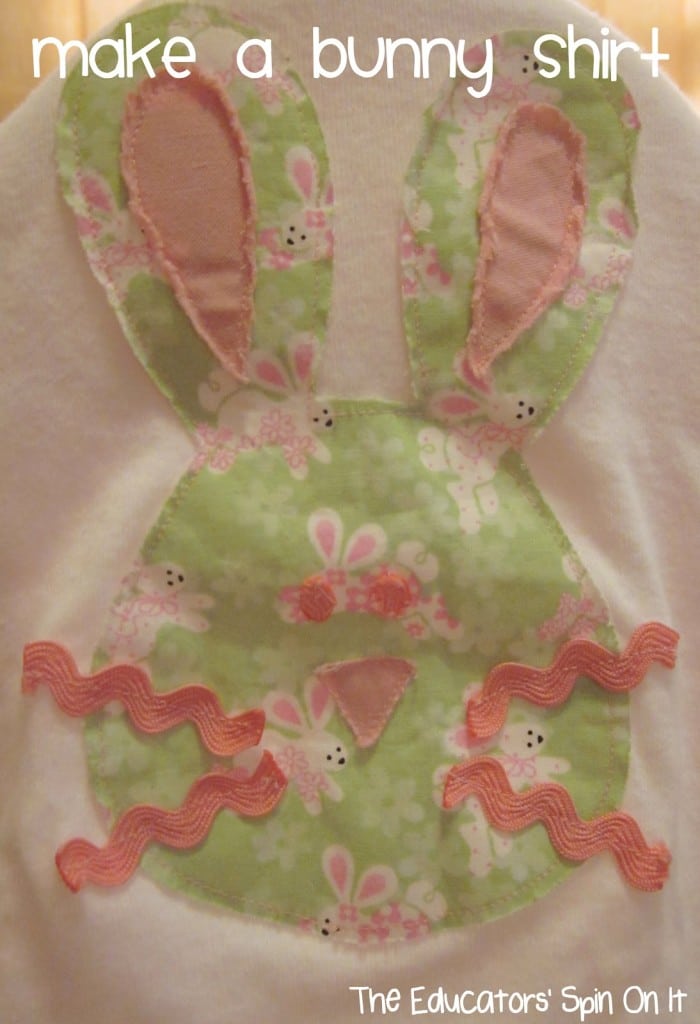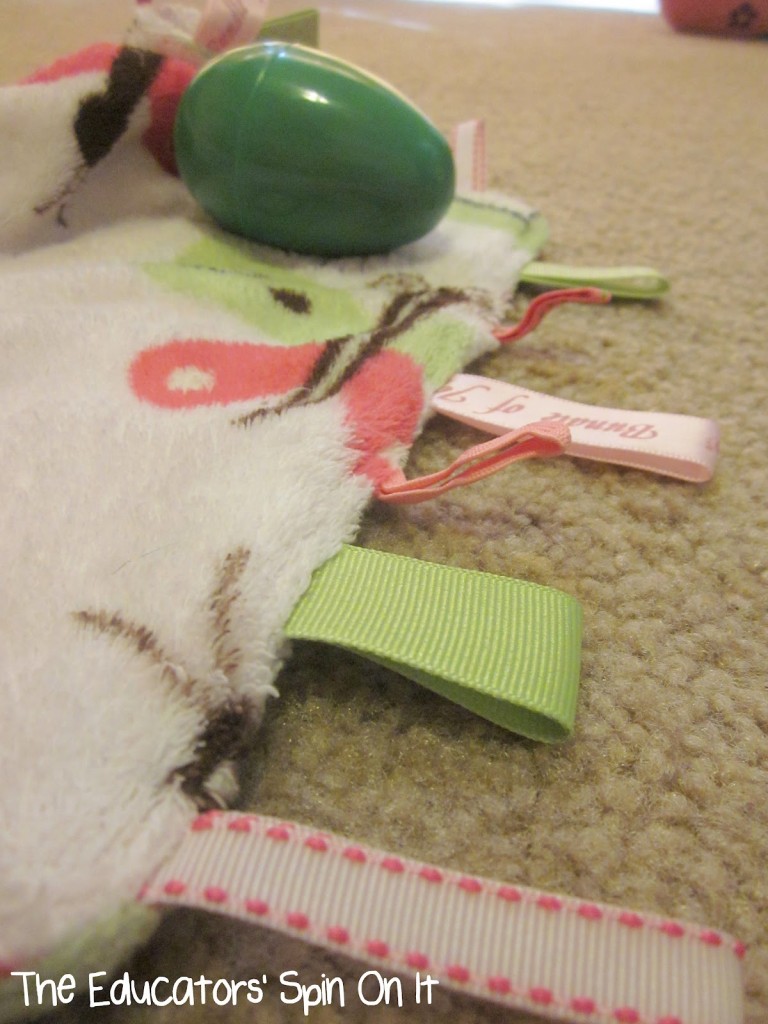 For younger babies you can Make a Personalized Onesie with fabric Applique or a Handmade Tag Blanket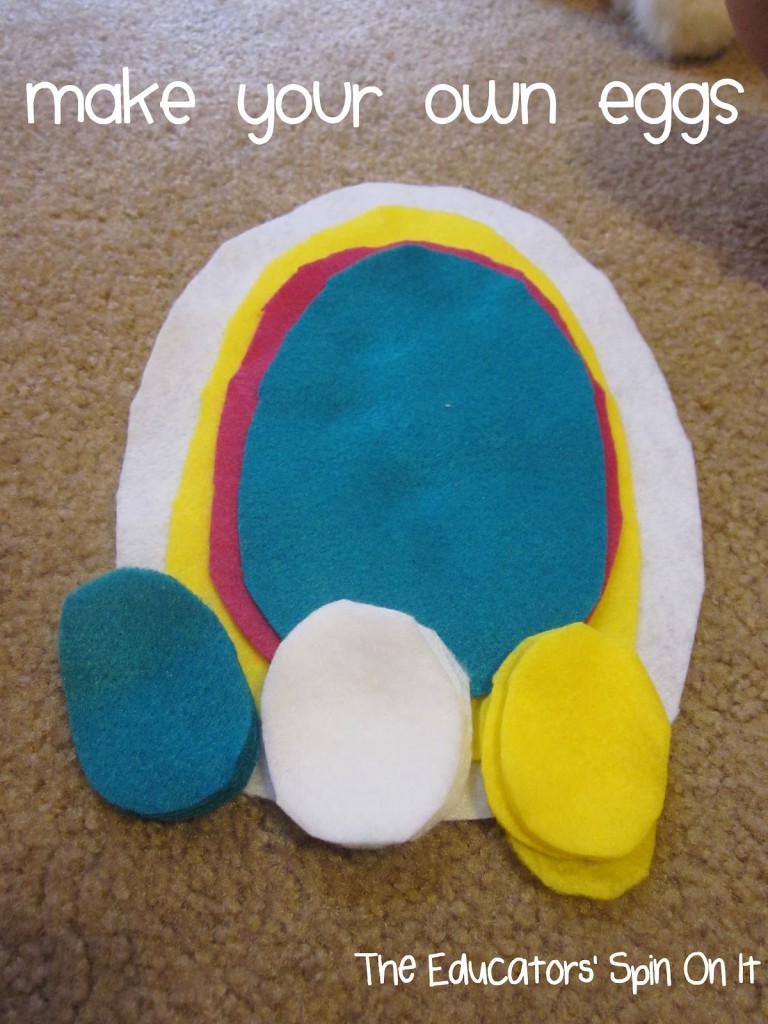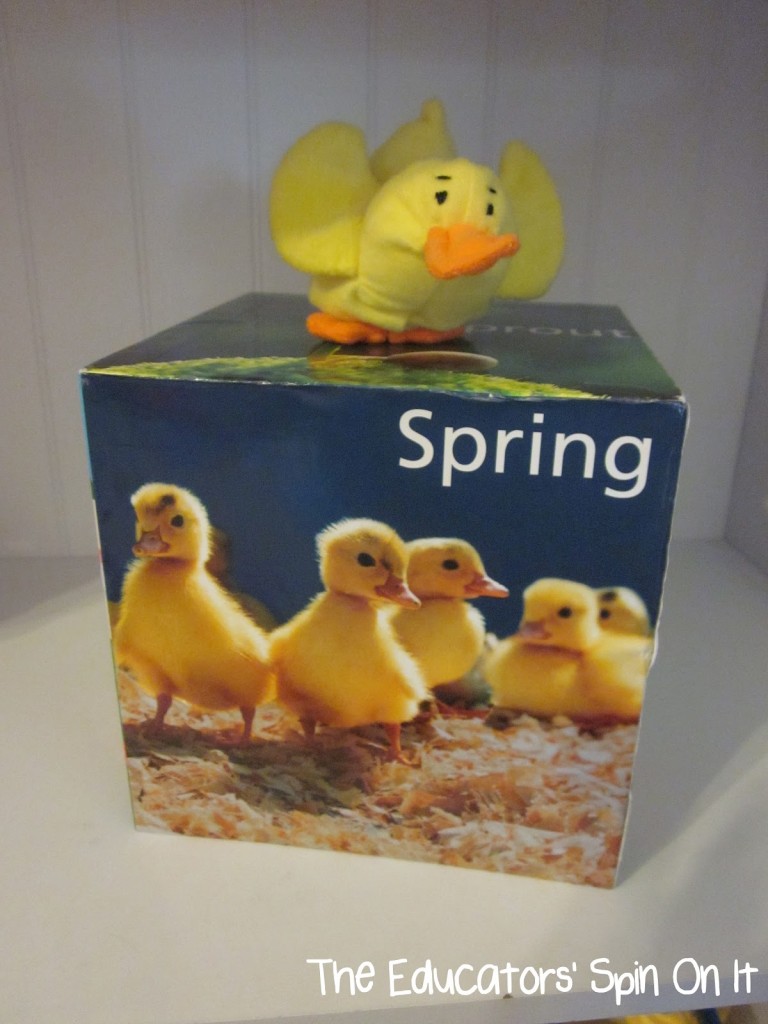 Fill their basket with one or two toys that can be played with again and again
Here's a post about Making Your Own Personalized Photo Blocks for their basket.
Your could do family members or spring photos!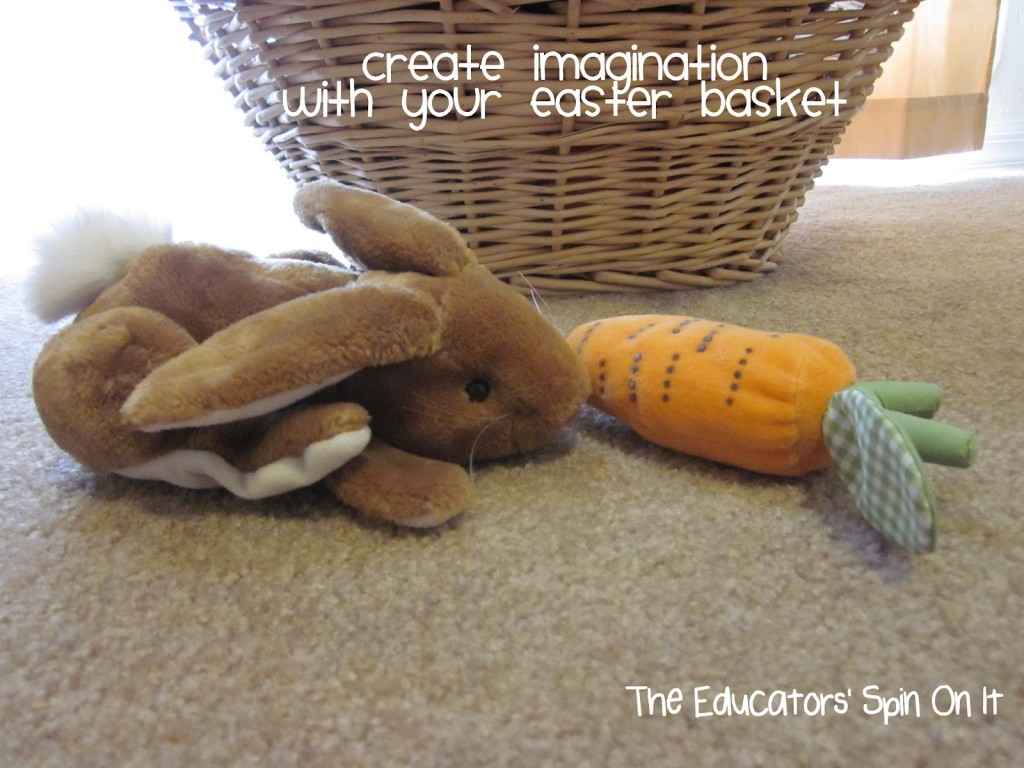 Easter Basket Ideas for Babies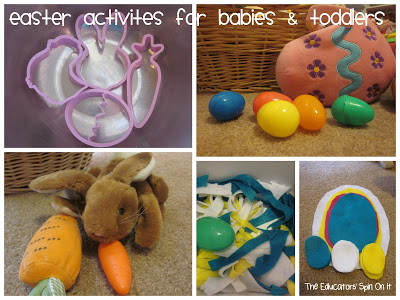 Click here for More Easter Crafts and Books for Babies & Toddlers
We hope that these ideas have made creating an Easter basket for your baby or toddler a little bit easier and provide hours of fun together with your baby.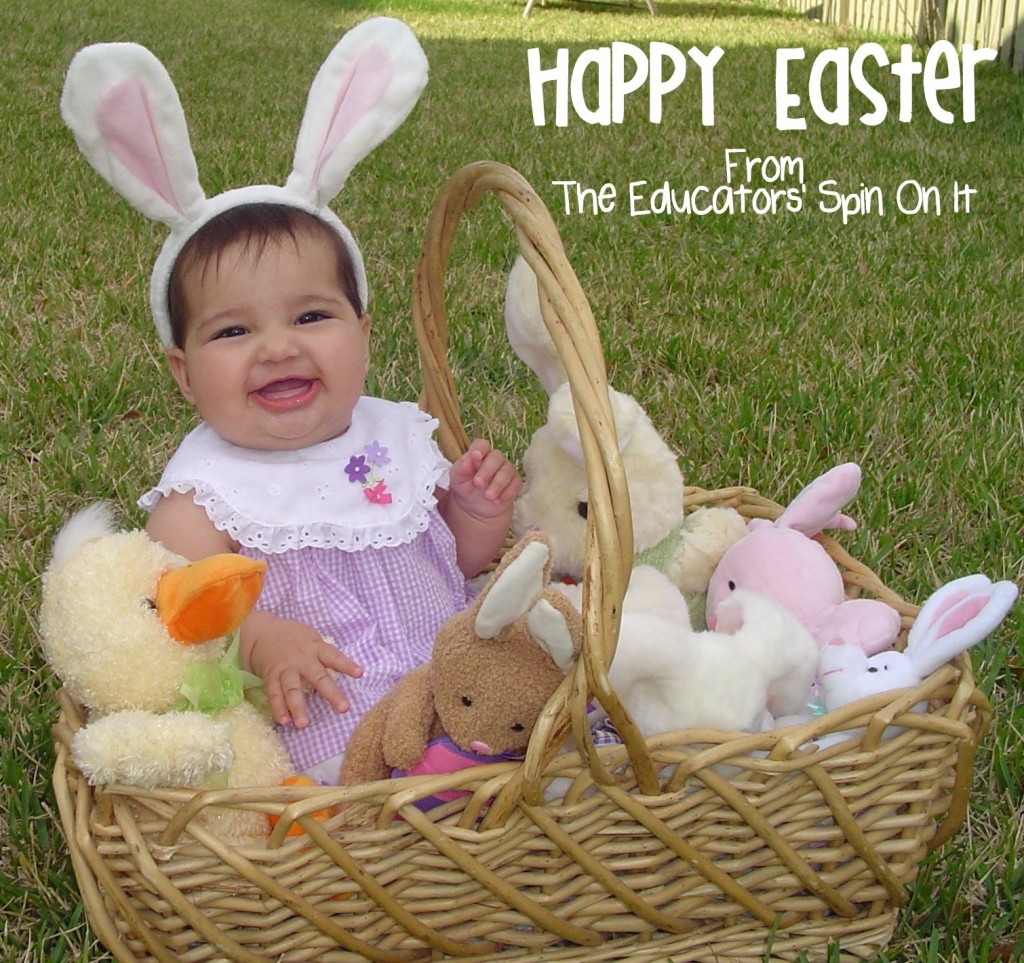 Baby Easter Toy Ideas
If you're looking for a few baby easter toy suggestions to add to your baby's first Easter basket I would start with these Eco Friendly Easter Eggs – 18 Count.
You could add a few finger puppets inside for a special Easter surprise like this 10pcs Velvet Animal Style Finger Puppets Set .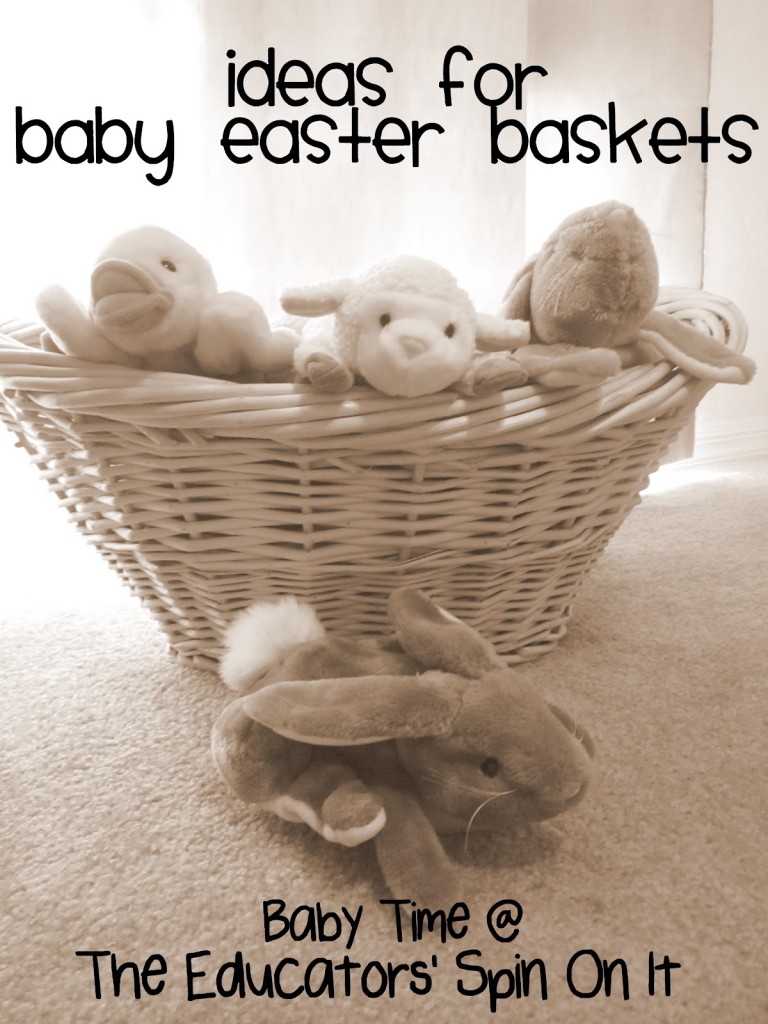 Easter Books for Babies
One item that's a must in your baby's Easter basket is an Easter Book. A tradition that I've always done with my 3 kids is to add a book to their Easter basket each year.
Here are a few of my favorite Easter books to start with.
Here are some more fun Easter Books for your baby or toddlers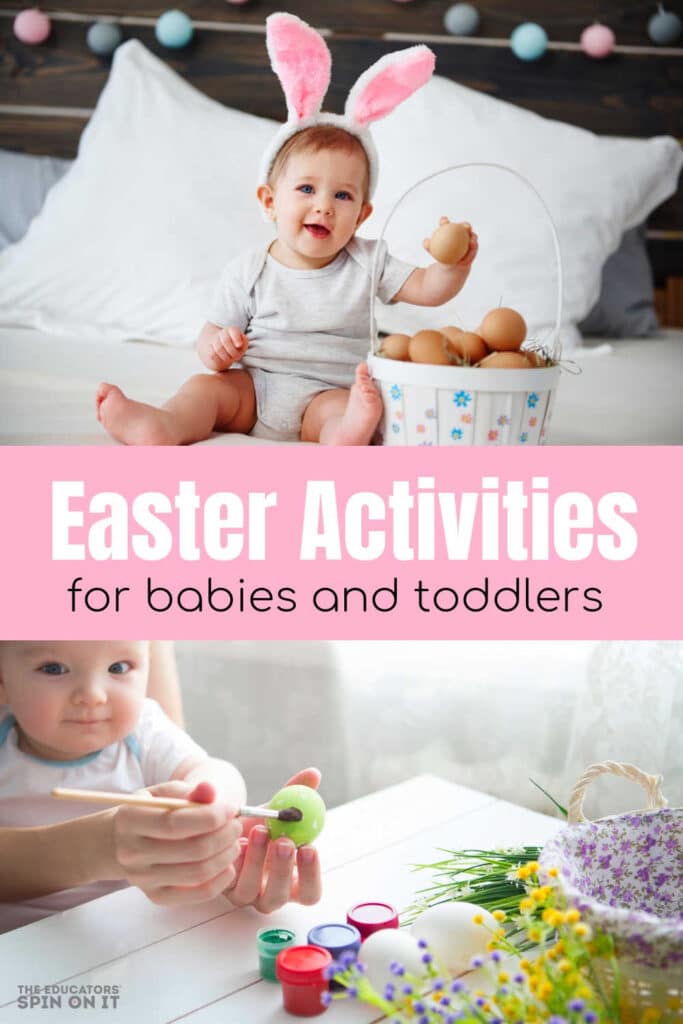 Looking for more Easter Activities for Babies and Toddlers? Try these…
Happy Easter from The Educators' Spin On It
The post Ideas for Easter Baskets for Babies appeared first on The Educators' Spin On It.