Rss
2020 was a spectacular reading year for me. Books provided a MUCH needed escape and sense of accomplishment in an extremely strange year.
2020 was also a year that further demonstrated my preferences in books and solidified my reading habits. During the second half of the year I kept track of books here on the blog - those lists might interest you.
I'm trying to be more like Jane Austen's Elizabeth Bennett - collecting books for my future excellent library!
"I declare after all there is no enjoyment like reading! How much sooner one tires of any thing than of a book! — When I have a house of my own, I shall be miserable if I have not an excellent library." - Jane Austen (Pride & Prejudice)
Reading and the Homeschool Parent
Being a homeschooling parent has intensified my desire to read. It has shown me the need to be a reading role model for my children - and, the more we learn in our homeschool the more I feel I need to know.
I believe it is essential to carve out time to read - both reading aloud and reading on your own. The more you make reading a part of your daily life, the more your children observe and imitate.
What started as my desire to build good habits in my children has turned into a bit of an obsession for me - I'm never without a book and would much rather read than watch television
---
20 Favorite Books in 2020
A few reflections from my reading year:
I loved each and every book on this list and hope you might be able to add some to your list, too!
You can always follow me on Instagram and Goodreads to keep up with my reading. I love to share what I'm reading and talk books in general.
The Murmur of Bees
The Dearly Beloved: A Novel
Just Mercy: A Story of Justice and Redemption
The Gift of an Ordinary Day: A Mother's Memoir
Memorial Drive: A Daughter's Memoir
Rules for Visiting: A Novel
Jane Eyre
PRIDE AND PREJUDICE
Lovely War
Homer H. Hickam: Rocket Boys : A Memoir (Paperback); 2000 Edition
The Fountains of Silence
Christy
Americanah
My Dear Hamilton: A Novel of Eliza Schuyler Hamilton
Last Christmas in Paris: A Novel of World War I
Secrets of a Charmed Life
Classic Christianity: Life's Too Short to Miss the Real Thing
Gentle and Lowly: The Heart of Christ for Sinners and Sufferers
My Dearest Dietrich: A Novel of Dietrich Bonhoeffer's Lost Love
Life Together (Dietrich Bonhoeffer-Reader's Edition)
Do you have a book to recommend to me from 2020?
I'd love to add it to my list!
Rss
The question I receive most often (now that I'm almost done with our homeschooling journey) usually goes something like this:
"How did you keep going? I'm afraid I won't have the stamina to keep doing this through high school."
The first answer I always give is "by the grace of God". After that I try to remind them that homeschooling is a MARATHON not a sprint. It's a quippy little statement that sounds good, but when you start to think about it, running a marathon and homeschooling have A LOT in common (not that I would know anything about the marathon, but I can make valid assumptions).
As we explore this marathon metaphor, PLEASE let me encourage you. The fruits you will see as you cross the finish line (and beyond) are amazing. It's worth it. I know it's hard to see that when you are deep in the muck with littles, but it is so worth it.
---
This alliterative marathon metaphor really is perfect for homeschooling. I hope you find the following points helpful and, more importantly, I hope it gives you courage to continue this most important work you are doing.
Now, more than ever, we need mighty homeschoolers - and it's up to YOU to educate them!
Why are You Doing This?
I've never run a marathon, but I am assuming marathon runners are greatly motivated. They have a GOAL.
The same is true for us as homeschoolers. Why are we doing this? Knowing your why (and reminding yourself of it) is crucial to success.
This is one of the best "whys" I've heard - I think you'll love it, too:
We keep them at home to nurture them, to cultivate relationships with them, and to plan the seeds of relationships with other people and their ideas. We keep them at home to equip them to embrace and to shape the world of their Creator. ~ Elizabeth Foss, Real Learning
Homeschooling is not easy. It requires great amounts of courage. If you can always articulate why you are on the journey, it serves as a sort of inner pep talk.
Less is More - Start Slow
You cannot run 26 miles out of the gate, and you can't have your ideal homeschool immediately, either. (The Couch to 5K app is wildly popular for a reason!)
If you are a new homeschooler, remember Rome wasn't built in a day. Start slow.
As you and your children learn to do a few things well, add other subjects one at a time.
Add the most important rocks first - usually, people start with math and reading. I might also suggest an outdoor nature study - it will just add fun and boost morale.
As you and your children learn to do a few things well, add other subjects one at a time.
Find Coaches, Partners, & Cheerleaders
Seek parents ahead of you on the journey. Seek parents in the same spot as you on the journey. And - this is very important - seek people NOT homeschooling (but who know you well and support you) to be your cheerleaders.
( In the same spirit, you may need to place some distance between you and people who do not agree with your homeschooling decision. )
In our current climate, it is difficult to find in-person accountability partners - to truly assemble your team.
When life returns to a semblance of normal, be sure to join a local homeschool group. Do you have any homeschooling parents at your church you can befriend?
I had a dear friend who went on a nature walk with my daughter and me when we first started homeschooling. I appreciated the friendship. She also took an interest in my daughter and taught her as we were walking. This friend was not a homeschooling mom, but she was a supporter of our homeschooling endeavor.
Have a Plan (but be flexible)
Just as you would have a training plan for a marathon, you need a PLAN for your homeschool.
Are you setting goals each year? Do you know what you would like your children to accomplish - do your CHILDREN know what you would like them to accomplish?
This plan will guide your instruction and give you a feeling of "legitimacy" that homeschool parents tell me they crave.
Once you have created the plan, however, realize that "life" gets in the way - one of the biggest benefits of homeschooling is flexibility. If something isn't working you can change course.
A plan allows for CONSISTENCY, which I believe is crucial to completing the homeschool marathon!
Celebrate YOUR Accomplishments - Ditch the Comparison
Remember to reward yourself and your children for accomplishments along the way. (You wouldn't compare yourself to an Olympic runner, would you?)
If your child masters a difficult spelling list, put a big sticker on their paper and display for the family to see! Take your child out for a milkshake as they cement their times tables.
Keep a reading log throughout the year and when you reach your goal, have a family celebration.
You get the idea.
Sometimes I would keep pushing through homeschool (me and my high expectations!), forgetting to compliment and reward my children along the way. There is no surer route to discouragement than this.
Additionally, please resist the urge to compare your homeschool to anyone else's - stay in your own lane!

Take Breaks
You wouldn't continue training for a marathon if you had the flu, right? Why do trudge through homeschooling when we know something isn't working or when we have clearly used up our energy reserves?
It's perfectly acceptable to take a few days off. EVERYONE needs a break to regroup and catch their breath - to regain strength and motivation.
Homeschooling is difficult, and if we don't acknowledge the fact that we need to take breaks we will surely burn out.

Every Part is Different
Some parts of the homeschool journey will be flat and easy - but there will also be hills that you feel you simply cannot climb, too.
Acknowledge this. If something is hard, let it be hard, with the knowledge that easier times will be coming (and a celebration after the hard!).
For me, homeschool middle school with one of my children was particularly difficult. It nearly made me quit homeschooling. I am so glad I had a support system in place and could be reminded by moms ahead of me it wasn't always going to be like this.
My mother's favorite saying - "Everything will look better in the morning!" really IS true. (Maybe it's not the very next morning - it might not be until the following month or even year.)
No Pain, No Gain?
I've always disliked this statement, but many times in homeschooling (as with all of life), the most difficult moments are the most refining.
That struggle you're going through with your middle grades girl? It will teach you a thing or two about patience, grace, and unconditional love. The tears your child breaks into as you lose your temper while trying to explain long division? That will teach you that relationship matters more than any academic concept - every single time.
Homeschooling (and really parenting!) children refines us in ways we didn't even realize we needed refining. The very act of raising children causes us to slow down and speed up all at the same time, teaching us so many valuable lessons along the way.

Now, go off and run that marathon!
Thoughts? Questions?
Leave them here in the comments and we can continue the training together!
You might also like:
Rss
Charlotte Mason said,

"No work should be given to a child that he cannot execute perfectly, and then perfection should be required from him as a matter of course" (Home Education, p. 160).
Your parenting and homeschooling aim is for your children to always do their best.  Training and instruction that develop good habits form 'railway tracks' for smooth parenting and homeschooling days. (You can read this excellent post at Homegrown Learners Laying Down Rails – The Foundations.) While this training stage may seem to extend for years, may feel completely irrelevant and can be annoying and time-consuming, it is worth it — oh, mom, it is so very worth it.
Training should be simple, clear, easy to remember, possibly made fun with songs or rhymes.   Work done poorly because of haste or because of inability needs to be quickly addressed.  Don't overlook poor effort, sloppy attempts or bad attitudes.  Any inability requires training if the task is appropriate to your child's age and stage.  If your child can't manage the training, then break it down further or leave that task or skill for a month or so until he has matured a little and can manage better.
Craft each child's assignments thoughtfully, then require his best effort – every time.  Think about how you taught your child to brush his teeth; how you carefully demonstrated and instructed him?  How you watched him doing it first with your help, and then by himself until he did it perfectly?  Then for weeks and months (and some children even take years …), you sat watching and supervising his teeth-brushing before just assuming that when he went to the bathroom, he was going to do an excellent job on his own.  Age played an important factor in knowing when your child was ready to learn, able to physically do the job and trained to remember to do it well on their own every time.
Don't confuse a gentle approach with being a "push-over."  If he gives sloppy or resentful work, immediately address his attitude.  Don't worry about his academics if his negative attitude is an issue.  Character training is your chief job in parenting and homeschooling.  Have a tea break and talk about what is worrying or troubling your child and try to get to the root of the issue and reassure him.
Recognize your child's efforts and encourage improvement where needed.  Don't shower your child with blanket praises such as, "Good job!" but rather be specific and mention actual skills or abilities such as,  "Well done on packing all the toys into the correct baskets," or "I can see how shiny the mirror is now that you've dusted the room."  Start any necessary critique firstly with acknowledgement of your child's effort and things he has done well.  Then be clear, specific and encouraging regarding any area that requires more effort or greater perfection,  "You remembered all your spelling words and wrote your dictation so neatly. Just remember to use a capital letter for … next time."
Focus on one area or task or skill at a time.  Set the expectation with the most positive statement or description and keep your voice and tone cheerful, happy, and positive.  If your words are filled with rebukes and negativity or filled with disappointment or exasperation,  your negative approach will shut down your child's happy response.  You want your child to engage with enthusiasm.   Timing, approach and positivity are key.  Pray for guidance on what to focus on and how to encourage your child to do their best.  Avoid all manipulation and autocratic demands, especially using fear and punishment as a form of motivation.  Focus on the rewards your child will gain from doing something correctly and excellently, from doing their very best.
May I encourage grace for you and your family for failures, for any faltering, for fear in the process.  Growth and character development are not easy, not always perfect and we are not always at our best.  But take a moment to breathe and find grace to start again. Grace to you as you do your best and instill the desire for your children to do their very best!
Blessings, Nadene
Rss
Wanting to start the year off right? Take a peep into any of the 4 Footprints programs (South African literature-based unity study curriculums)? Hear about other veteran homeschooling mom's journeys and tips to succeed?
Join us for this exclusive event!
18, 19 and 20 January 2021
19h30-21h00
Session #1: Starting your year strong. Shirley and Wendy will discuss all things about getting started, planning, schedules, chores, budgets. We will also cover how to include the lovely things – art, music, nature study. Included will be raising entrepreneurs, life long learners and magnanimous children.
Session #2: In depth look at Footprints to make homeschooling stress-free. Interviews with Linnie Lues and Linda Heckroodt about Voetspore, and a closer look at our other 3 programs: Little Footprints (4-8yrs), Footprints on Our Land (8-12) and Footprints C21 (12-16). We will briefly discuss school leaving options.
Session #3: Interviews with veteran homeschool moms who've been there and done it! Come and join in our conversation with 3 veteran homeschooling moms: Joanne Madgwick Simone Simone Tracy Eichler and Nadene Esterhuizen who have all homeschooled all the way.
All sessions will be recorded, in case you miss one! Join us for 3 encouraging livestreams where we will cover:
Sign up for the livestreams at this link – Homeschooling 2021 – A Positive Start
Rss
The newest form to add to the 7 Step DIY Homeschool Planner you build here each year is this colorful and editable homeschooled student attendance record. Editable Homeschooled Student Attendance Record Also, I keep ALL the attendance records on STEP 5a of the 7 Step DIY Homeschool Planner. However, I wanted to create one which […]
Rss
When I created my original 7 Step DIY Homeschool Planner it grew in popularity quickly and it's still going strong; I knew the key to creating a daily homeschool planner is to create one which works for you THIS year. Early on I recognized several of the key problem areas with daily homeschool planners. Look […]
Rss
NEW! World War II Packet – Discounted until Jan. 10, 2021!
Our 150-page World War II unit covers many of the basic events from the post-WWI era through the bombing of Hiroshima and Nagasaki in August 1945.
The WWII Packet includes notebook pages, worksheets, timelines, interactive notebook pages and other activities.
Here is Table of Contents for this WWII Unit:
Timeline of 1920-1930s Events
Post WWI Events – Notebook Pages and Teacher (Full Text) pages
Rise of Hitler, Anti-Semitism, Inflation, anti-Jewish measures
Map Work (pre-WWI, post-WWI)
The Holocaust – Einsatzgruppen, Final Solution
Post WWI Political Extremists – Totalitarianism, Fascism
WWII Begins: Tensions in Europe Increase (Maginot Line, Sudetenland, Appeasement, Poland, Fall of France
U.S. & WWII (Cash-and-Carry, Lend-Lease, Pearl Harbor)
The U.S. Mobilizes for War (Women in WWII, War Economy)
Allied Leaders
Development of the Bomb
Key battles of World War II
There are six sections after the Timeline of WWII Battles:
WWII Battles in (Western) Europe
WWII Battles in the Soviet Union
WWII in North Africa
Key Conferences (Atlantic, Teheran, Yalta, Potsdam, etc.)
WWII Battles in the Pacific Region
WWII Battles – Chronologically
How we used this material: I printed out the student, fill-in-the-blank pages for my kids and the full-text version for myself.  Then we would go over the material together and they would fill in the missing words.  As you'll see, we covered some of the same material at different points of the unit (just to help cement in that information).
What Age is this WWII Unit for?  We did this unit with my kids who were ages 16, 14 and 12, so it probably best for late middle school and high school. (In fact, some of this material is from when I taught AP history and history on the college level.)
My kids really loved this unit.  We highly recommend the Holocaust TV Mini-Series starring Meryl Streep. And, we also read Bomb: The Race to Build and Steal – the World's Most Dangerous Weapon which we highly recommend!! (affiliate link)  It was full of intrigue and was a fascinating account of how the bomb was built. Plus, it makes the perfect segue for studying the Cold War.
Note: There is a lot included in this packet, but remember that you don't have to cover everything! This is a unit I have taught at least a dozen times over the course of my career (I taught history on the high school and college level for many years).  Each time, I have emphasized different things! Pick and choose the material that works for you. (When I did this unit with my kids last year, we didn't get to everything, though I have included that material in this packet.) There is SO much to learn in history, it is never really possible to go into as much depth as you could!
Do I need a special book or textbook with this unit? A question I'm often asked regarding our units: Do I need to buy a specific textbook or book to go with these units? No, these units are meant to supplement whatever curriculum or textbook (or books from the library) you choose.  There are extensive notes provided, so you do not have to do extra research in order to use this resource. The teacher notes provided can be read together with your student/s or you can read over the teacher notes while your students use fill-in-the-blank type pages that accompany them. For the interactive notebook pages, students can use the cut-and-paste notes provided or can do research and write in their own answers.
The WWII Unit is 150 pages. This packet is a pdf-download. You will receive a download link from SendOwl, the delivery service I use.
When I first release a new unit, I often do so at a discount.  This unit is currently $9.99 $5.99 through Jan. 10, 2021.
World War II Unit
$9.99 $5.99

Be sure to check your PayPal email account for the download link!
If you have any questions, feel free to email me! ~Liesl
By the way, we studied WWI prior to doing this unit. You can find out more about our World War I Unit here. You can purchase that with the link below or in our store.

$8.99 World War I Packet 100+ pages World War I – Quick Preview or visit the post or view image 1, image 2, image 3, image 4, image 5, image 6, image 7
Cold War Packet – Coming Soon!
Vietnam War Packet – Coming Soon!
Feel free to email me if you want access to these! ~Liesl
See you again soon here or over at our Homeschool Den Facebook Page! Don't forget to Subscribe to our Homeschool Den Newsletter. You might also want to check out some of our resources pages above (such as our Science, Language Arts, or History Units Resource Pages) which have links to dozens of posts.  You might want to join our free Homeschool Den Chat Facebook group.  Don't forget to check out Our Store as well.
Again, if you are interested in joining our Homeschool Den Newsletter, feel free to subscribe here.
The Welcome Series includes 5 packed emails… with tips on homeschooling, keeping motivated, finding various resources and freebies tucked away on the blog and more!
Plus, you'll be the first to hear about new packets (generally offered at a discount when they are first released), seasonal resources and more!
Happy Homeschooling! ~Liesl
Disclosure: Please note that some of the links in this post are affiliate links, and at no additional cost to you, I will earn a commission if you decide to make a purchase.
The post World War II Unit appeared first on Homeschool Den.
Rss
Guess what?!! This new Wolf Unit is FREE until Jan. 22, 2021! Happy Homeschooling!  ~Liesl
This new 35+ page Wolves Mini-Unit will help your kids learn all about wolves! The Wolves Packet includes a number different activities such as a notebook pages with tracing, research question booklet, an interactive notebook activity, and wolf writing pages. I also included a half-dozen activity pages if you have younger kids in your family. 🙂
Wolves Notebook Pages (Booklet Style) with Tracing
The first activity is a booklet with lots of information and fun facts about wolves. Choose from two covers – a coloring page or photos of wolves. Student can trace in some of the important information.
Here are some sample pages to learn all about wolves:
Wolves Research and Writing Pages
For older students, print out the option with the questions on each page. Students can write in their own answers after reading books from the library or doing some research on the internet. There are also blank research pages at the end of the packet if that works better. Some questions students will research/answer:
Where do wolves live? What kind of habitats do wolves live in?
Wolves are the members of the Canidae family. What other animals are part of the Canidae family?
Wolves are carnivores. Explain what a carnivore is. What adaptations help wolves find food?
Describe the structure and hierarchy of the wolf pack.
Wolves Interactive Notebook – Lapbook Activity
There are a lot of amazing facts included in the Wolves Interactive Notebook – Lapbook Activity.  Students will learn things such as
How many teeth do wolves have?
What is the difference between a wolf and a coyote?
Where do wolves raise their young?
Why do wolves howl?
How much do wolves eat?
How fast can wolves run?
and much more!
The suggested answers are provided.
Wolf Writing Worksheets
Wolf and Letter W Activity Worksheets
If you have younger kids in the mix, there are some wolf and letter W activities at the very end of the packet. You will find these worksheets on pages 38-43.
I have just added this new Wolf Mini-Unit to the Big Animal BUNDLE.
The BIG Animal Bundle includes 8 packets.   1) Animal Unit, 2) World Animals Packet, 3) Rainforest Packet, 4) Life Cycles Packet, 5) Winter Packet – plus 6) the Cicadas Packet 7) the Chameleon Packet and 8) the Wolves Packet. These Animal Units can each be purchased individually as well. More details about the BIG Animal Bundle here or scroll down below!
This 35+ page packet is $3.50 $0.00. Often when I release a new packet, I do so at a discount.  This time, I am going to provide this mini-unit for you free for the next 10 days (through Jan. 22, 2021). Happy New Year!
If your kids enjoy this unit, let me know!  It means a lot when I hear from homeschoolers and teachers who have used our materials!  I always tell my kids (because they have a big hand in editing and tolerating their Mom being at the computer for so many hours!!)
Happy Homeschooling!
Note: You will get an email from SendOwl (the automatic delivery service I use) with the download link.  The automatic email might say something like "thank you for your purchase," but of course you did not pay anything because it is currently free! Just wanted to be sure you knew! ~Liesl
Wolves Mini-Unit Packet
$3.50 $0.00

Recommended Wolf Books for Kids:
These are some wonderful kids books for introducing kids to wolves.  (These are affiliate links):
Wolves by National Geographic Kids – This book is perfect for 4-6 year olds.
Wolves by Gail Gibbons has a lot of great information about wolves. She's written a lot of non-fiction books for kids and they are all great!
Wolves by Seymour Simon This book has a lot of great information. It is probably geared more for 7-9 year olds.
There are also several picture books that explain how the ecosystem in Yellowstone National Park improved with the re-introduction of the wolf:
When the Wolves Returned: Restoring Nature's Balance in Yellowstone (Beautiful photographs)
The Wolves are Back (Beautiful paintings by landscape artist Wendell Minor. There is also a similar book by this author called The Buffalo Are Back)
Bringing Back the Wolves: How a Predator Restored an Ecosystem

---
Be sure to check your PayPal email address for the download link. If you have any questions or problems feel free to email me! ~Liesl
Big Animal BUNDLE

  $19.99 Big Animal BUNDLE – This bundle includes 5 main units and 3 mini-units:  1) Animal Unit, 2) World Animals Packet, 3) Rainforest Packet, 4) Life Cycles Packet, 5) Winter Packet  6) Cicadas Packet 7) Chameleons Packet 8) Wolves Packet More details here or  view image 1 or  image 2.

  $5.99  Animal Unit (100+ pages) – This unit covers animal characteristics, Feather, fur or scales?,  animal classification (the animal kingdoms, vertebrates and invertebrate groups), insects vs. spiders, animal tracks, animals homes and shelters, nocturnal vs. diurnal animals and more! Quick Preview or More details here or view image 1, image 2, image 3, image 4, image 5, image 6, image 7, image 8, image 9, image 10, image 11
(more pictures down below!!)

  $4.99  World Animals Unit (60+ pages) Animals of the 7 Continents: Montessori 3-part cards and Activity Pages, best for ages 3-7 or so. Also in the World Animals Unit is the mini-unit on Animals of the African Savanna  Quick Preview or view image 1, view image 2, view image 3 (African Animals)

  $10.00 BUNDLE OPTION: Animal Unit and World Animal Unit

The Animal Unit is more than 100 pages. The World Animal Unit is 70+ pages. More details below!

$4.99 Amazon Rainforest Packet (50 pages) Quick Preview or visit the post or view image 1, image 2, image 3, image 4, image 5

$4.99  Life Cycles Packet (50 pages) Explore the life cycles of the chicken, sea turtle, frog, mosquito, butterfly, dragonfly, bee, ladybug, mouse Quick Preview or visit the post or view image 1, image 2, image 3, image 4, image 5

$4.99  Winter Unit – Earth's Axis/Seasons; The Arctic vs. Antarctica; Polar Animals includes a Hibernation Unit (100+ pages)   Winter Packet and Hibernation Unit Quick Preview or view the post or view image 1, image 2 Arctic vs Antartica, image 3 polar animals, image 4 seals sea lions penguins, image 5 Hibernation Unit

$2.50 Cicadas Packet This 20-page unit includes cicada worksheets, notebook pages and a lapbook so kids can learn more about this fascinating insect! See more at this post.

$2.50 Chameleons Packet This 15-page mini-unit helps kids learn all about chameleons from where they live and what they eat to how big they are and why the change colors.

$3.50 $0.00 (Free thru 1/22/21) NEW! Wolves Packet (35+ pages) Learn all about wolves from where they live, why they howl, to how they raise their young.  This includes notebook pages with tracing or pages with questions to research/answer, interactive notebook pieces/lapbook and some fun activity pages.  View the post, view image 1, image 2, image 3, image 4, image 5, image 6, image 7, image 8


$0.00 FREE Living Nonliving Cards and Worksheets (More info here)

$4.00 Dinosaur Unit (100+ pages – Multi-Age Packet: 50 pages for ages 3-6; 60 pages for ages 7-9) View Post or View image 1, image 2, image 3, image 4 lapbook, image 4

$3.50 Mitten Activities Packet (40 pages) View Post or View image 1, image 2, image 3, image 4

$5.99  Five Senses Unit You can find out more about our NEW 100+ page Five Senses Packet. Details are here: View Post, image 1, image 2, image 3, image 4, image 5
You can find out more about our BIG Animal Bundle here! One Mum from the U.K. said, "We got the animal bundle a few weeks back. An AMAZING resource! Perfect for a combined geography project. Especially love how you can adapt these packs to suit your learning style!"

It includes the 5 main Animal Units plus three mini-units (cicadas, chameleons, wolves)
Disclosure: Please note that some of the links in this post are affiliate links, and at no additional cost to you, I will earn a commission if you decide to make a purchase.
The post Wolves Mini-Unit appeared first on Homeschool Den.
Rss
FOLLOW US ON: APPLE PODCASTS | GOOGLE PLAY | STITCHER
Howard Berg speaks with us about speed reading methods. Howard is the World's Fastest Reader from the Guinness Book of World Records. He teaches speed reading, speed math and speed writing. With his methods, high schoolers have finished high school in 2.5 years and graduated with 35-40 college credits. Twenty of his students completed college before age 20 (or younger), and three 13-year-olds enrolled in college (one of which graduated at 16 with a 4.0 GPA in economics and another was a senior at 16 with a 3.9 average in engineering). Learn how to learn more effectively here!
Related links:
The post Podcast: How to Complete High School in Half the Time first appeared on Homeschool.com.
Rss
Explore these playful snow themed activities with your child. This collection of snow activities will encourage your preschooler to learn about science, art, math, language and more this winter. Plus use our selection of popular children's winter books to connect with these fun snow themed activities.

Disclosure: Affiliate links used in this post to Amazon.
Snow Themed Activities for Kids
Below you'll discover 18 winter activities that connect snow with popular children's books. Read, make, learn & play with this snow inspired activities for your preschooler.
CLICK HERE FOR THE WINTER PRESCHOOLER PLANNER
Snowflake Science Lab Challenge
Pretend Snow Recipe for Kids Sensory Play
Winter Science Activities with Snow and Ice
Hosting a Snow Themed Playdate
Snowman Candy Bar Wrapper Gift Idea & Craft
Snowflake Number Train Activity
Snowflake Stamping Art Project
11 Snowman Activities for Preschoolers
Snow Art with Winter Birds and Birch Trees
Winter Themed Alphabet Sensory Bin
Snow Themed Alphabet Sensory Bin
Water Color Birch Tree Painting for Kids
Salt Science Experiment with Ice
9 Snow Day Indoor Movement Games & Activities
Winter Virtual Field Trips for Kids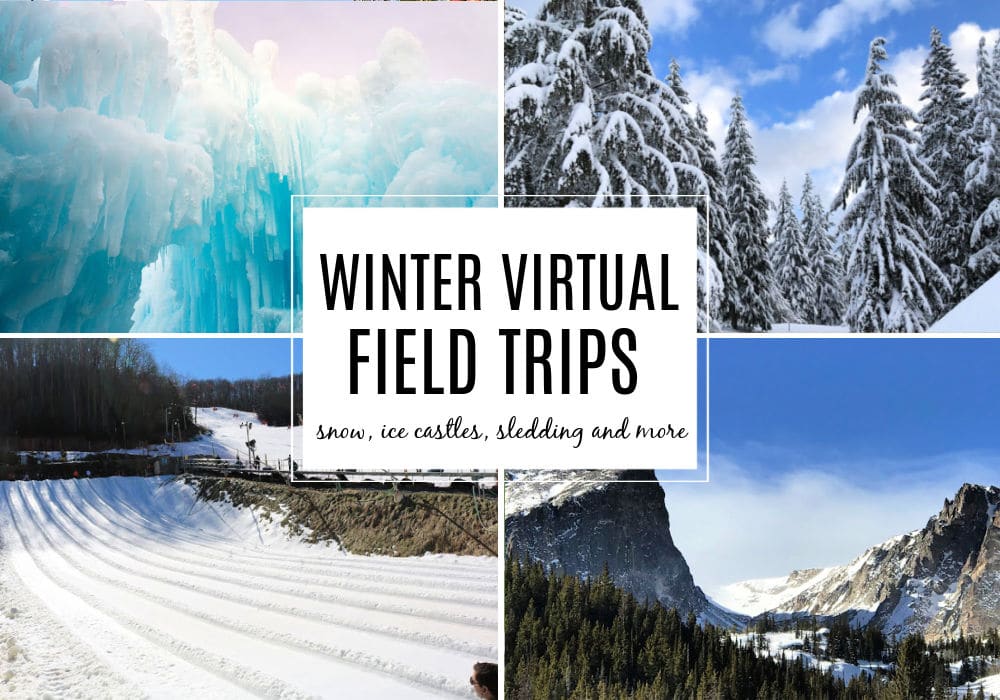 Which snow themed activities will you explore with your preschooler first? If you'd like us to make a weekly plan for you to follow with these activities you can download our Snow Themed Lesson Plan here!
Snow Themed Books for Preschool
There are so many adorable snow themed books to read with your preschooler this Winter. I've pulled some of my favorite that I have read with my own children as well as many of my classroom student's favorites over the years. Some of the books are about snow itself. Several include snowmen and even a few are about Winter and the arrival of snow. No matter where you live it's important to talk about this change in season for kids to understand the science and fun behind it.
Which snow book is your favorite, did I include it in my list? If not share with me below in the comments.
Ten Sparkly Snowflakes
by Tiger Tales
The Little Snowplow
by Lora Koehler
Snowflakes
by Cerrie Burnell and Laura Ellen Anderson
Hello Science Reader, Level 1: I Am Snow by Jean Marzollo
The Snowy Day by Ezra Jack Keats
The Jacket I Wear in the Snow
by Shirley Neitzel
The Magic of Friendship Snow by Andi Cann
There Was a Cold Lady Who Swallowed Some Snow! by Lucille Colandro
The Night Before the Snow Day by Natasha Wings
Sneezy the Snowman
by Maureen Wright
Over and Under the Snow
by Kate Messner
Curious About Snow (Smithsonian) by Gina
Shaw
The Biggest Snowman Ever by Steven Kroll
The Mitten
by Jan Brett
Snowballs by Lois Ehlert
Snowmen at Night by Caralyn Buchner
The Snowman by Raymond Briggs
100 Snowmen by Jon Arera
The First Day of Winter by Denise Fleming
Mouse's First Snow by Lauren Thompson
Let It Snow
by Maryann Cocca-Leffler
Want to print this winter lesson plan? We've put the books and activities together so you can enjoy with your child or class!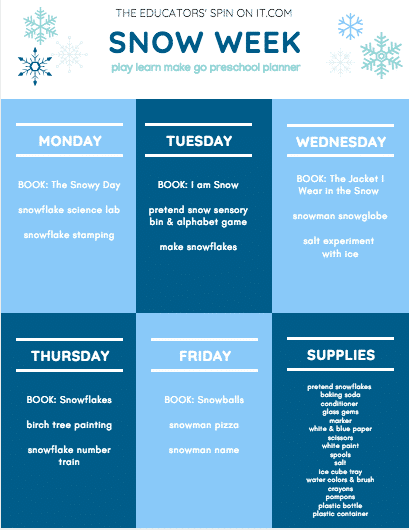 Check out our lesson plan for each of these activities and books to plan out your Winter Lesson Plans with your Preschooler?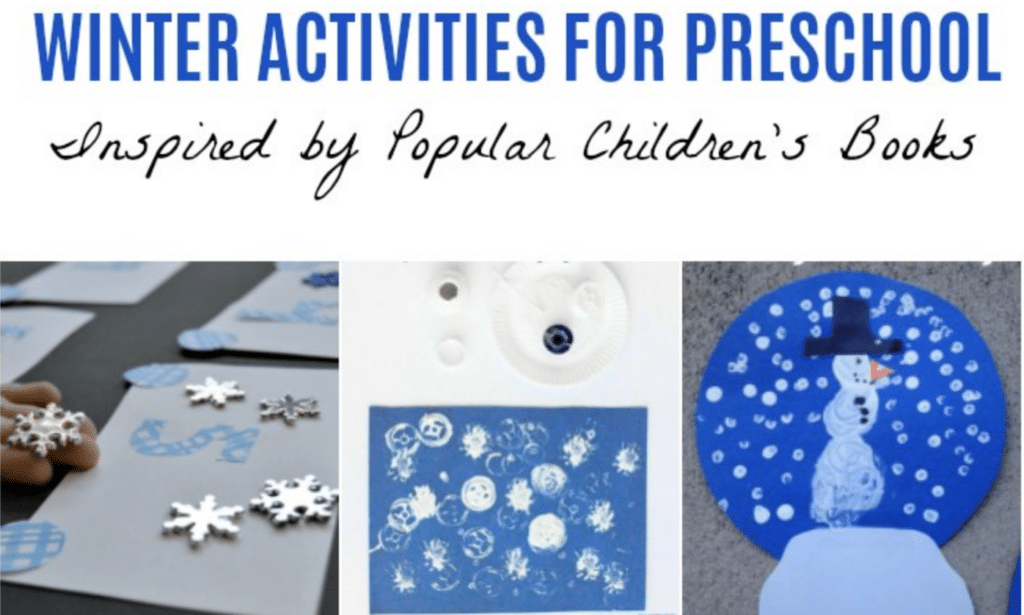 The post 18 Fun and Easy Snow Themed Activities for Your Preschooler appeared first on The Educators' Spin On It.